Zohar Quotidiano # 992 – Fissa il tuo Canale.
Click here to listen to the Daily Zohar [audio:https://dailyzohar.com/wp-content/uploads/audio/dz992.mp3|titles=Daily Zohar 992]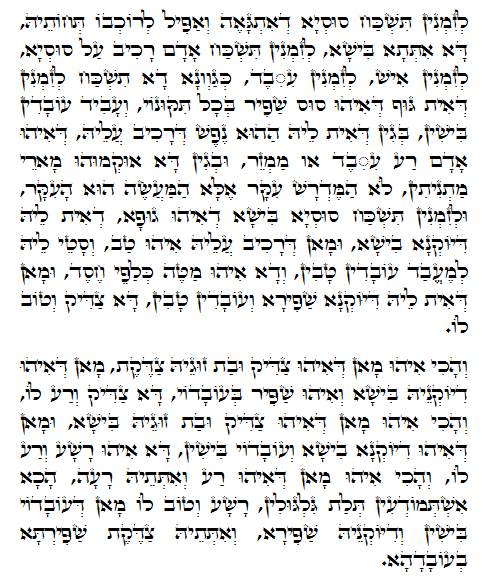 Tikkun 70 – 97.
L'anima di una persona è un aspetto maschile e la creazione di Adamo. Il corpo è un aspetto femminile, perché è un vaso/recipiente per l'anima.
Genesi-Bereshìt 2:18.
"וַיֹּאמֶר יְהוָה אֱלֹהִים, לֹא – טוֹב הֱיוֹת הָאָדָם לְבַדּוֹ; אֶעֱשֶׂה – לּוֹ עֵזֶר, כְּנֶגְדּוֹ" "vayomer Adonay Elohim lo-tòv heyot ha'adam levadò e'esèh-lò ezer kenegdò"."E il Signore Dio disse: 'Non è bene che l'uomo sia solo: gli voglio fare un aiuto che gli sia contro."
Il corpo / femminile che HaShèm ha creato per Adamo / anima è stato creato in modo da dargli uno strumento per lavorare in questo mondo. Se una persona merita di prendere la retta via poi la donna / vaso/recipiente lo avrebbe aiutato a realizzare la grande Luce seguendo le vie della Toràh.
Ecclesiaste 7:26.
"וּמוֹצֶא אֲנִי מַר מִמָּוֶת, אֶת – הָאִשָּׁה אֲשֶׁר – הִיא מְצוֹדִים וַחֲרָמִים לִבָּהּ – אֲסוּרִים יָדֶיהָ;. טוֹב לִפְנֵי הָאֱלֹהִים, יִמָּלֵט מִמֶּנָּה, וְחוֹטֵא, יִלָּכֶד בָּהּ"
"Trovo che amara più della morte è la donna, che è una trappola, il cui cuore è una trappola e le cui mani sono catene. L'uomo che piace ad HaShèm le sfugge, ma il peccatore rimane preso da lei ".
Se una persona prende una strada sbagliata e segue la sua inclinazione al male allora il corpo / femmina /vaso/recipiente intrappola l'anima dell'uomo nei desideri fisici e materiali.Sfuggendo il desiderio per l'ego (il sè) si trarrà grande beneficio dall'usare il corpo / femmina / vaso/recipiente come un canale per attirare più Luce alla sua vita.
Proverbi 18:22.
"מָצָא אִשָּׁה, מָצָא טוֹב,. וַיָּפֶק רָצוֹן, מֵיְהוָה"
"Chi ha trovato una moglie ha trovato ciò che è bene e riceve il favore da YHVH"
La parola ebraica רָצוֹן, qui tradotto come 'favore', ha le stesse lettere Ebraiche della parola צנור (zinòr), che significa un "tubo", un "canale".
{| |}