Daily Zohar – Tikunim – # 1001 – Zakaj si lačen?
Click here to listen to the Daily Zohar [audio:https://dailyzohar.com/wp-content/uploads/audio/dz1001.mp3|titles=Daily Zohar 1001]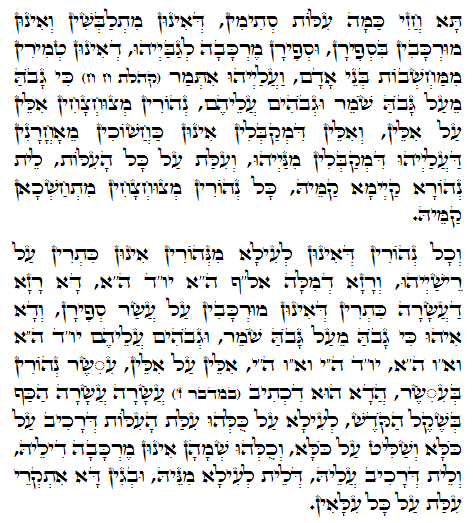 Tikkun 70 – 106
Glava Arich Anpin-a ima tri ravni Svetlobe , ki naveže na svetlobo Neskončnega.
Gulgalta – גולגלתא- lobanja Kruma d'Avira – אוירא קרומא ד- Opna Air Mocha Stima'ah – מוחא סתימאה- zastrta pamet.
Spodnja skica je splošna samo, da nam pokaže povezavo med glavami KRONE (Keter) in sicer ATIK in ARICH. Arich je dvojnik iz sveta Adam Kadmon in Svetlobe Neskončnega. Gre za edino in vse obsežnpo milost. Naslednja faza je Arich, kjer lahko pričenjamo videti oblikovanje vidika moškega in ženske . Pritisni spodnjo sliko za povečavo:
[frame type="lifted"]https://dailyzohar.com/wp-content/uploads/2012/08/atik-arich-215×300.jpg[/frame] Proces v Keterju je ustvaril zmožnost nadaljevati konstrukcijo svetov in usmerjanje svetlobe Neskončnega na nižje ravni. Zohar nas podučuje, da kljub temu, da je KRONA (Keter) najvišji Sefirot z najprodornejšo svetlobo, jo še vedno lahko predstavljamo kot temno glede na ravni nad Krono (KETER) in glede na svetlobo iz Neskončnega.
10 Sefirojev predstavlja proces razvoja iz svetlobe Neskončnega v snov v fizičnem svetu. Vsaka raven prinaša spodnjo raven s stvaritvijo telesa zanjo.
Zgornji Sefiro "sune" svojo svetlobo navzdol za oblikovanje telesa. Potem potuje nazaj in pusti svetlobo za vse spodnje ravni. Krona ima svetlobo za vseh deset spodnjih Sefirojev in kot taka nima nobene vrzeli zanjo. Modrost ( Chokmah ) ima svetlobo devetih Sefirojev, torej zase in osem Sefirojev pod seboj. Modrost (Chokmah ) nima nobenega pomanjkanja oz. hrepenenja, ker stalno prejema vso svetlobo Krone. Krona, ki pa je samo koren vsega. Razumevanje (Binah) začenja doživljati željo, da razširi svetlobo, ki je bila podedovana njej iz Modrosti (Chokmah ). Ta proces se nadaljuje v spodnjih ravneh, dokler ne prispe do KRALJESTVA ( Malchut ). Kraljestvo tako ostane brez svetlobe vendar z največjo željo od vseh. Kraljestvo ima "okus" za svetlobo vseh Sefirojev nad njim in je venomer v stanju lakote. Imeti željo za materialne stvari je kot izraba svojega telesa, kar dela materialne stvari lomljive/spremenljive. Ko uporabljamo materialno bivanje za razširitev našega telesa/biti in želimo svetlobo želimo svetlobo, rastemo duhovno. Naše duše tako rastejo višje.
{||}