Zoharjev dnevnik št. 1009 – Ohrani živost tvoje podobe
Pritisni tukaj za Zoharjev dnevnik [audio:https://dailyzohar.com/wp-content/uploads/audio/dz1009.mp3|titles=Daily Zohar 1009]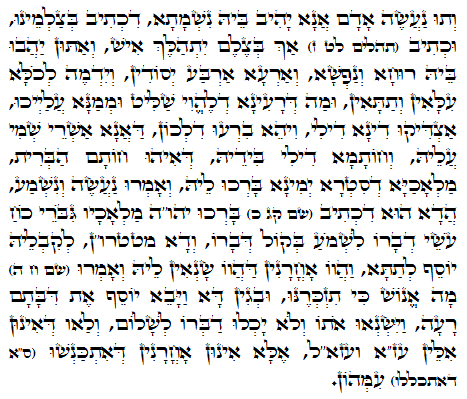 Tikkun 70 – 114
Geneza Prva Mojzesova Knjiga 1:26
"וַיֹּאמֶר אֱלֹהִים, נַעֲשֶׂה אָדָם בְּצַלְמֵנוּ כִּדְמוּתֵנוּ; וְיִרְדּוּ בִדְגַת הַיָּם וּבְעוֹף הַשָּׁמַיִם, וּבַבְּהֵמָה וּבְכָל-הָאָרֶץ, וּבְכָל-הָרֶמֶשׂ, הָרֹמֵשׂ עַל-הָאָרֶץ "
"In Bog je zapovedal: 'Naredimo človeka po naši podobi, podobnega nam in dajmo mu oblast nad ribami v morju, nad perjadjo v zraku, nad živino ter nad vso zemljo in nad plazečimi, ki se plazijo na zemlji.'"
Zohar prinaša še eno drugačno pojasnilo: "Naredimo človeka" je mišljeno kot dati mu dušo, ki iz sveta Stvarjenja ( Beriah ). "po naši podobi" predstavlja Drevo Življenja. Beseda podoba je "צלם" in ima številčno vrednost 160. Enako kot עץ, 'Drevo'.
Knjiga Psalmov 39:7
"אַךְ-בְּצֶלֶם, יִתְהַלֶּךְ-אִישׁ "
"Prav gotovo človek prihaja kot v podobi (צלם)"
Mi smo ljudje iz 'Podobe' 'Image' צלם ( kar se izgovarja kot 'Tzelem'). To je energijsko polje, ki povezuje fizično pojavnost s svojo duhovno entitetno osnovo kar omogoča stalen tok življenja iz Drevesa Življenja. Ko Tzelem izgine, ima človek samo še 30 dni življenja. V Zoharjevem razdelku Vayechi je zgodba or Rabinu Izaku. Rabin Izak je bil eden od učencev Rabina Šimona. Rabin Izak je prišel Rabinu Šimonu brez Tzelem-a. Rabin Šimon ga je navezal na svojo energijo in s tem odgnal Angela Smrti stran od Izaka. Rabin Šimon je bil navezan na Drevo Življenja na nek način s katerim je lahko kontroliral življenje. S tem je odgnal Angela smrti za vse nas. Ampak za to ni dobil dovoljenja od Boga. Zohar je naša navezava na Drevo Življenja in moč s katero utrjujemo in krepimo naš Tzelem.
[note color="#F8F8F8″]וְהַמַשְׂכִּילִים יָבִינוּ, מִסִּטְרָא דְּבִינָה, דְּאִיהוּ אִילָנָא דְּחַיִּי, בְּגִינַיְיהוּ אִתְּמַר, (דניאל יב) וְהַמַשְׂכִּילִים יַזְהִירוּ כְּזוֹהַר הָרָקִיעַ בְּהַאי חִבּוּרָא דִּילָךְ דְּאִיהוּ סֵפֶר הַזֹּהַר, מִן זוֹהֲרָא דְּאִימָא עִלָּאָה תְּשׁוּבָה. בְּאִלֵּין לָא צָּרִיךְ נִסָּיוֹן, וּבְגִין דַּעֲתִידִין יִשְׂרָאֵל לְמִטְעַם מֵאִילָנָא דְּחַיִּי, דְּאִיהוּ הַאי סֵפֶר הַזֹּהַר, יִפְּקוּן בֵּיהּ מִן גָּלוּתָא בְּרַחֲמֵי. וְיִתְקַיֵּים בְּהוֹן, (דברים לב) יְיָ בָּדָד יַנְחֶנּוּ וְאֵין עִמּוֹ אֵל נֵכָר [/note]
Odstavek iz Zoharjevega razdelka Naso (Odstavka 89,90 דף קכד ב) nam pojasnjuje, da osebe, ki so navezane na Zohar ne bodo šle skozi stiske in težave v dneh pred Mesijo. Zohar prihaja iz svetlobe RAZUMEVANJA-Binah. Daje nam okus Drevesa Življenja. To je to kar nas povedlo iz izgnanstva ( v končno odrešitev ) z milostjo.
{||}