Zoharjev Dnevnik Št. 1013 – Odpiranje kanalov
Pritisni tukaj za poslušanje Zoharjevega dnevnika[audio:https://dailyzohar.com/wp-content/uploads/audio/dz1013.mp3|titles=Daily Zohar 1013]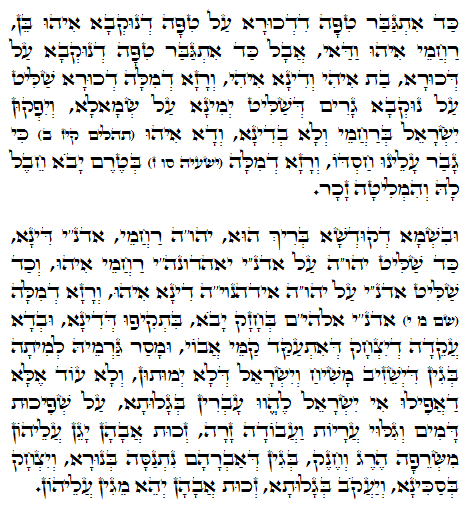 Tikkun 2 – 2 (sklicuje se na Tikkun 22 and 23)
Knjiga Psalmov 117:2 "כִּי גָבַר עָלֵינוּ, חַסְדּוֹ– וֶאֱמֶת-יְהוָה לְעוֹלָם: הַלְלוּ-יָהּ "
"Kajti Njegova milost nad nami je velika; in resnica YHVH traja večno. {N} Haleluja."
Kadar Chessed Blagost ( moški vidik energije ) iz desnega debla Drevesa Življenja presega Gevurah Moč Sodba ( ženski vidik energije ) iz levega debla Drevesa Življenja, takrat čutimo dobro, ki prihaja iz Svetlobe preko središčnega debla. To je kanal resnice אמת in manifestacija svetlobe v Zemeljskem Kraljestvu Malchut. Kadar večina ljudi v svetu povečuje/krepi Chessed in Milost skozi svoja dejanja lahko občutimo prihajanje Mesije z milostjo. Sicer pa čutimo sodbe ter krepitev moči in napetosti Gevurah.
Biblijski praočaki so za nas odprli kanale v svetove na višjih ravneh. Ti nam dajejo energijo življenja, ki teče odzgoraj navzdol ter nas čistijo in zavarujejo od smrti. Abraham je bil preizkušan z ognjem in očiščen nečistosti z delovanjem ognja. Izak je bil preizkušan pod nožem svojega očeta in tako šel skozi popravo od vseh pregreh. Jakob je moral iti v izgnanstvo pred svojim bratom. Tam je moral naporno delati, da se je lahko duhovno navezal s svojo ženo in kasneje odšel v izgnansto v Egipt. Popravil je vidik smrti za <choking>.
Vse naše molitve iz višjih ravni se prično z navezavo na Abrahama, Izaka in Jakoba. Njihova dejanja so ustvarila kanale, ki jih uporabljamo za odpiranje vrat na višjih ravneh. Na Rosh Hashanah naredimo 100+1 trobljajev s Šofarjem. Razdelimo jih v tri množice:
30 za Abrahama in desno deblo,
30 za Izaka in levo deblo ter
30 Jakoba in središčno deblo.
10 zadnjih trobljajev je za Kralja Davida, ki predstavlja vidik Zemeljskega Kraljestva Malchut
Vsaka množica trobljajev očisti različne vidike nečistosti, ki smo jih prinesli na sebi. Pomembno je da ostanemo tiho med 100imi trobljaji Šofarja. To je ena dolga duhovna navezava. Govorjenje med procesom nas odveže od zgornjih ravni in odvrže na prostor, kjer nimamo veliko varovanja. To je dogodek, ki spreminja življenje zato bi ga morali vzeti kot takega ne pa kot socialno druženje na katerem se pokažemo v novih modnh oblačilih ali nakitu. Pridruži se Rosh Hashanah služenju s ponižnostjo ter odpri srce in bodi kot praočak za odpiranje novih kanalov svetlobe zase v prihajajočem novem letu.
{||}