Zoharjev dnevnik št. 948 – Ali lahko vidiš angele v njihovih očeh?
Pritisni tukaj za poslušanje Zoharja [audio:https://dailyzohar.com/wp-content/uploads/audio/dz948.mp3|titles=Daily Zohar 948]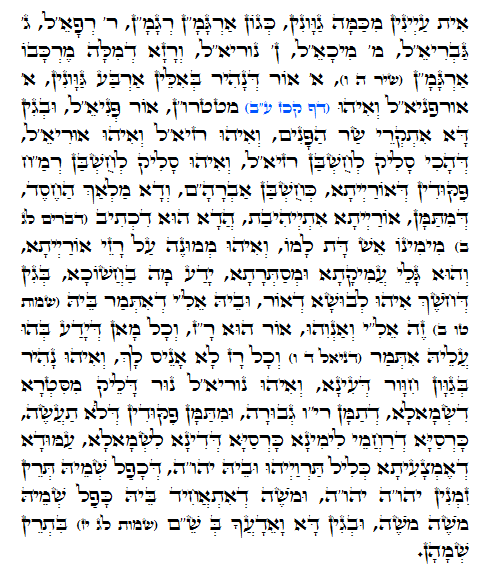 Hebrew translation:
Sorry Hebrew translation is missing from my original files.
Tikkun 70 – 53
Visoka pesem 3:10
"עַמּוּדָיו, עָשָׂה כֶסֶף, רְפִידָתוֹ זָהָב, מֶרְכָּבוֹ אַרְגָּמָן; תּוֹכוֹ רָצוּף אַהֲבָה, מִבְּנוֹת יְרוּשָׁלִָם"
"Iz srebra je naredil njegove stebre, iz zlata njegovo naslonjalo, njegov sedež je škrlaten (אַרְגָּמָן), znotraj je vezenina, delo ljubeznih jeruzalemskih hčera."
Ta verz nam odkriva naslednje:
– naredil je stebre srebra za Chessed(חסד) BLAGOST,PRIJAZNOST – desni steber – zlato za Gevurah (גבורה) OSEB. VZDRŽNOST, BRZDANJE – levi steber – škrlat za osrednji steber Tiferet ( תפארת ) SIJAJ – osrednji steber in vozovi zanj so zastrti v imenu barve אַרְגָּמָן ( vijolična, škrlatna ).
א Alef predstavlja zgornji vir svetlobe, ki napolnjuje ostale vire svetlobe pod njim. א Alef predstavlja angela O…l ( אור פניאל ), katerega ime predstavlja 'notranjo luč Boga'. To je drugo ime za angela M……n, ki predstavlja Poslanca notranjega obraza. Pritegnjen je namreč iz notranje luči. To je prav tako angel רזיאל Raziel, ki predstavlja skrivnost skrivnosti Tore. Prav tako je Ariel ( אור פניאל ) tisti, ki usmerja svetlobo svetim Bitjem božanske kočije. Oba angela imata enako števično vrednost 248. Predstavlja pa desni steber Tore z 248 pozitivnimi predpisi. Abraham אברהם , ki predstavlja voz Chessed-a je prav tako 248.
ר za angela Rafaela רפאל ג za angela Gabrijela גבריאל מ za angela Mihaela גבריאל מ za angela Nuriela נוריאל .
אוריאל Ariel je desni od Tiferet-a ( Chessed, ki je v Tiferetu ) in Nuriel נוריאל je levo ( Gevurah Tiferete ). Vsi ti angeli predstavljajo barve, ki prihajajo ven iz svetlobe, ki izžarevajo iz oči. Oči lahko izžarevajo najgloblji nivo duše osebe. Ko se učimo prepoznavati svetlobo v očeh osebe lahko vidimo angele v njih.
{||}