Zoharjev dnevnik št. 932 Katera je Luč tvojega obraza
Click here to listen to the Daily Zohar [audio:https://dailyzohar.com/wp-content/uploads/audio/dz932.mp3|titles=Daily Zohar 932]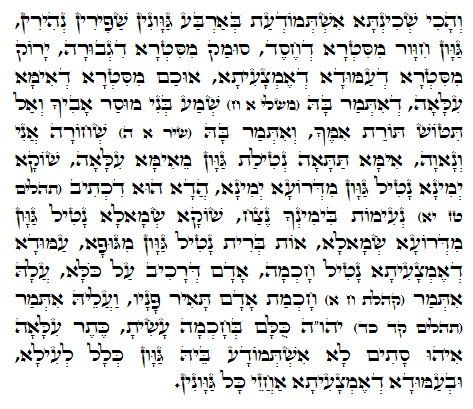 Hebrew translation:
Sorry Hebrew translation is missing from my original files.
Tikkun 70 – 37
Scehhina – שכינה ( nastanitev,prisotnost nebeške prisotnosti Boga ) je razodeta s štirimi barvami čiste strani.
– bela barva prihaja od 'CHESSED'- a ( sefirot BLAGOST v drevesu življenja )
– rdeča barva prihaja iz GEVURAH-a ( sefirot MOČ/SODBA/OSEBNA MOČ v drevesu
življenja )
– zelena prihaja iz središčnega stebla TIFERET ( sefirot sila ki povezuje CHESSED in
GEVURAH )
Pesem Pesmi 1:5 "שְׁחוֹרָה אֲנִי וְנָאוָה, בְּנוֹת יְרוּשָׁלִָם " "Črna sem, ali lepa, hčere jeruzalemske…".
– črna barva prihaja iz BINAH ( sefirot RAZUMEVANJE v drevesu življenja ), ki predstavlja nebeško mater in je prav tako barva nižje Shechina-e, prejeta od Binah, nebeške matere.
– brez barve iz KETER-ja ( sefirot KRONA v drevesu življenja ), ki predstavlja povezavo z neskončnim onkraj dosega našega zavedanja.
Notranje barve čistega ali nečistega vidika osebe se odražajo na obrazu te osebe. Pridigar (Kohelet) 8:1 "מִי, כְּהֶחָכָם, וּמִי יוֹדֵעַ, פֵּשֶׁר דָּבָר; חָכְמַת אָדָם תָּאִיר פָּנָיו, וְעֹז פָּנָיו יְשֻׁנֶּא". "Kdo je kakor modri ? In kdo pozna razlago stvari? Človekova modrost razvsetljuje njegov obraz in spremeni ostrine njegovega obraza"
Barve predstavljajo valovanje/pulziranje Luči iz različnih Sefirojev. Prizma je orodje, ki razodeva 7 valovanj svetlobe, ki jo vidimo kot barve. Barve so Rdeče, Oranžna, Rumena, Zelena, Modra, Indigo, Vijolična. Višje valovanje svetlobe predstavlja sefirot Malchut. Zato je intenzivneje zgoščena. Vsa valovanja prihajajo iz nevidne luči in so razodete skozi prizmo, ki usmerja svetlobo, da se izrazi na različnih ravneh ( frekvence ). Vsaka barva je zlitje sosednjih barv. Srednja barva zelena je zlitje rumene in modre iz obeh strani. Rdeča in rumena tvorita oranžno, modra in vijolična tvorita indigo. Barva Malchut-a je vijolična –
ארגמן (izgovarjano 'Argaman') .
Podučili smo se, da višja frekvenca valovanja je vidik Malchut-a. Namreč svetloba je ujeta v močnejšo željo izražanja.Vijolična je bližja osnovni barvi Indiga za vodo, Modra za zrak ( nebo je modro ). Rumena je za sevanje svetlobe, ki prihaja iz sonca. Oranžna je ogenj Sonca, Rdeča je vidik transformacije čiste duhovne svetlobe v fizično kraljestvo.
To je tudi pojasnilo zakaj sonce, ki je sicer 4,5 milard let staro, proizvede toliko energije, ne da bi samo sebe pokonzumiralo.Ali lahko zagotovo rečemo, da je telo iz snovi?
Teden nazaj se mi je zastavilo vprašanje " Zakaj sonce gori pa se nikdar ne porabi? Od kod prihaja energija?" Astronomska znanost nas uči, da Sonce proizvaja energijo s jedrsko fuzijo vodikovih atomov v helijeve atome v svojem jedru. Vodik ima atomsko število 1. Ko se dve jedri združita postaneta Helij, ki ima atomsko število 2. Vodik in Helij sta prva dva elementa v periodnem sistemu. Sonce je vir svetlobne energije, ki je generirana iz enega samega jedra. Obstaja neverjetno ravnotežje v jedrski fuziji, ki poteka znotraj sončevega jedra. Koren je navadno 1, združitev 1+1 kar da 2 in nato vse skupaj 3. To predstavlja vidik višjih treh sefirojev Chokmah, Binah in Da'at, ki prinaša energijo življenja sedmim sefirojem spodaj.
Ta energija se razodene, če uporabimo test s prizmo. Po preučevanju tega dela Zoharja sem razumel navezavo sončne svetlobe in življenja. Prav je prišlo do razumevanja vidika Zeir Anpina. To je bil "vav trenutek" zame. Hvaležen sem Bogu in Rabinu Simonu za odpiranje tega okna razumevanja v nas. Sonce je nahranjeno z duhovno energijo Binah-a, ki se nato transformira v energijo/ogenj in nam prinaša oporo življenja na fizičnem nivoju.
Druga Mojzesova Knjiga 34:29 "וַיְהִי, בְּרֶדֶת מֹשֶׁה מֵהַר סִינַי, וּשְׁנֵי לֻחֹת הָעֵדֻת בְּיַד-מֹשֶׁה, בְּרִדְתּוֹ מִן-הָהָר; וּמֹשֶׁה לֹא-יָדַע, כִּי קָרַן עוֹר פָּנָיו–בְּדַבְּרוֹ אִתּוֹ" "Mojzes je prišel s Sinajske gore; obe tabli postave sta bili v Mojzesovi roki, ko je šel z gore; in Mojzes ni vedel, da žari koža njegovega obličja zaradi pogovora z NJIM." Zdaj razumemo bolje ta verz. Bolje razumemo tudi zakaj se je Rabin Simon klical kot 'Sinaj' in zakaj je ob odločitvi, da zapusti ta svet, ogenj obkrožil njegovo hišo.
{||}