Zoharjev dnevnik Št. 928 – Resnična čarobnost Zoharja
Click here to listen to the Daily Zohar [audio:https://dailyzohar.com/wp-content/uploads/audio/dz928.mp3|titles=Daily Zohar 928]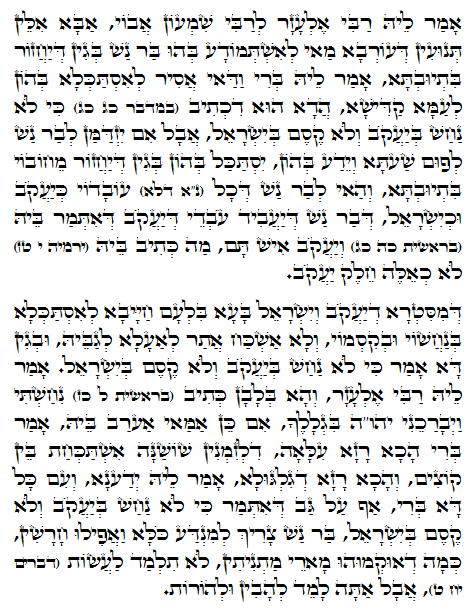 Prevod v Hebrejščini:
Oprostite Hebrejski prevod je umaknjen
Tikkun 70 – 33
Rabin Shimon and Rabin Elazar nadaljujeta razpravo o vrani. Razodeneta nam, da lahko vrane razodenejo prihodnost in ostala sporočila. In sicer tistim, ki znajo prebrati njihovo gibanje in zvoke. To znanje pomaga ljudem v izvedbi njihove ceremonije Teshuvah ( kesanje ) in popraviti njihov prekršek ali greh. Rabin Shimon nam da zelo jasno vedeti, da ne bi smeli iskati te vrste preučevanj kot je rečeno v Četrti Mojzesovi Knjigi -Numeri 23:23:
"כִּי לֹא-נַחַשׁ בְּיַעֲקֹב, וְלֹא-קֶסֶם בְּיִשְׂרָאֵל " "Kajti ni nobene očaranosti v Jakobu kot tudi ne vedeževanja v Izraelu" (sklicujoč se na aktivnosti Čarovništva in Čarodejstva ).
Peta Mojzesova knjiga 18:9 : "כִּי אַתָּה בָּא אֶל-הָאָרֶץ, אֲשֶׁר-יְהוָה אֱלֹהֶיךָ נֹתֵן לָךְ–לֹא-תִלְמַד לַעֲשׂוֹת, כְּתוֹעֲבֹת הַגּוֹיִם הָהֵם" "Ko prideš v deželo, ki ti jo podarja YHVH, tvoj Gospod, se ne uči od narodov posnemati gnusob teh narodov. Prihod v deželo Boga je naše stanje duhovne povezanosti. Ko smo povzdignjeni ne smemo slediti aktivnostim druge strani, ki je kontrolirana s svojimi ministri.
Ne bi smeli uporabljati kateregakoli negativnega sistema. Kar vključuje :
– čarovništvo
– Wicca, Voodoo itd.
Vendar modreci v Zoharju pričajo, da se lahko naučimo razumeti in učiti ostale za izogibanje grožnjam uporabe teh znanj. "לא תלמד לעשות – אבל אתה למד להבין ולהורות" " Ne boš se naučil teh veščin vendar pa se lahko naučiš razumeti in poučevati:)"
Tega nauka smo se naučili pri Jakobu. Takrat je delal za Lavana, ki je bil veliki učenjak in čarovnik. Pri njem se je naučil vseh skrivnosti, da se je lahko zavaroval pred njim. Jakob se je oklenil poti do Luči. Tako je ostal zavarovan. Lavan je vedel, celo priznal, da je Jakob prejel blagoslov od čiste strani kajti Jakob je bil z njim ( Glej Geneza 30:27 ).
Drug pomen verza v četrti Mojzesovi knjigi 23:23 "כִּי לֹא-נַחַשׁ בְּיַעֲקֹב, וְלֹא-קֶסֶם בְּיִשְׂרָאֵל "
נַחַשׁse nanaša na Kačo. Kača je moški vidik Klipah-a ( Lupina ) in קֶסֶם. Kar dobesedno pomeni "Čarovnija" . Hkrati je tudi ženski princip Klipah-a ( lupina negativnosti ). Kot taka deli dve črki סֶם,' SM's svojim možem Sam-el (Sam-el nima luči sam po sebi zato krene po tistih, ki imajo Luč ). יַעֲקֹב , Jakob in njegovi nasledniki so lahko svobodni vpliva Klipah-a, če se oklenejo poti YHVH. Ta verz lahko služi kot mantra za odstranitev in odklop od vpliva vsakršne vrste čarovništva. Delovalo bo na ljudeh, ki imajo dobro posodo/nosilca/osnovo in povezavo z Lučjo. Uporabi Zohar. To je resnična magična Luč, ki v trenutku odstrani temo.
{||}