Click here to listen to the Daily Zohar [audio:https://dailyzohar.com/wp-content/uploads/audio/dz933.mp3|titles=Daily Zohar 933]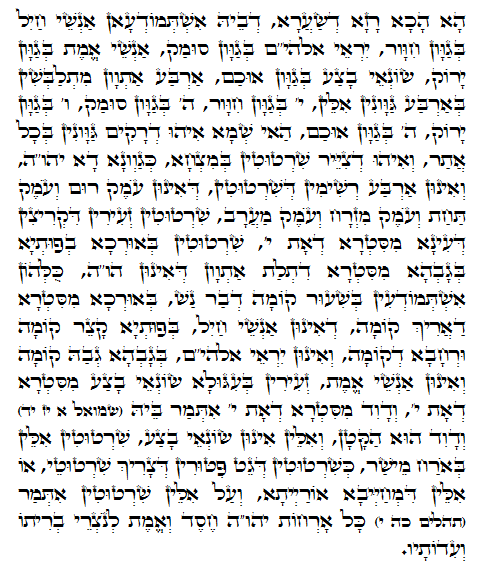 Hebrew translation:
Sorry Hebrew translation is missing from my original files.
Tikkun 70 – 38
Vidik YHVH imena je v vsem kar obstaja, v 4 barvah las.
Y-Bela barva in vidik Chessed-a (BLAGOST) v fizičnem izrazu. H-rdeča vidik Gevurah-a ( osebna moč, moč sodbe, krepost ), V-zelena Tiferet/Zeir Anpin, H-Črna Malchut. Vidik štirih črk YHVH je prav tako mogoče najti na čelu glave. YH – Zgornji in spodnji V.
Osebe z drobnimi linijami na svojih obrvih imajo vidik črke Yod. Če ima oseba zaključene line vzdolž čela, potem ima vidik Chesed-a( BLAGOST, PRIJAZNOST). Kratke linije v višini čela predstavljajo vidik Gevuraha ( osebna moč, samoobvladovanje ). Ti ljudje so lahko hitre jeze vendar velike želje zase. Na fizičnem nivoju so lahko nad povprečne teže. Široke in dolge linije so vidik Tiferet-a – središčno steblo in ravnotežje. Fine linije, ki izgledajo kot majhni loki so vidik Malchut-a in zadnja črka v imenu ADNY. Ravne linije indicirajo sledenje poti resnice.
{||}