Zoharjev dnevnik – Ali si ti stražar?
Pritisni tukaj za poslušanje Zoharjevega dnevnika [audio:https://dailyzohar.com/wp-content/uploads/audio/dz1046.mp3|titles=Daily Zohar 1046]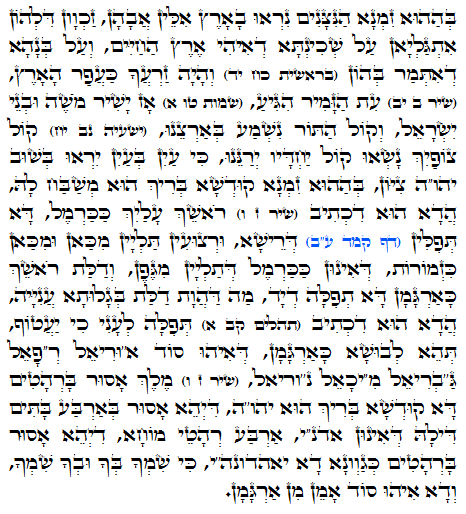 Slovenski prevod
Poprava 6 – 5
Visoka pesem 2:12 "הַנִּצָּנִים נִרְאוּ בָאָרֶץ, עֵת הַזָּמִיר הִגִּיעַ; וְקוֹל הַתּוֹר, נִשְׁמַע בְּאַרְצֵנוּ. "
"Cvetni popki se pojavijo ne zemlji; prihaja čas petja in glas grlic je slišan v naši deželi; "
Čas petja namiguje na petje Mojzesa v času Končne odrešitve.
Exodus 15:1 " אָז יָשִׁיר-מֹשֶׁה וּבְנֵי יִשְׂרָאֵל אֶת-הַשִּׁירָה הַזֹּאת, לַיהוָה, "
"Potem bodo Mojzes in otroci Izraela zapeli to pesem YHVH in govorili, rekoč;…"
Ko pride čas Končne Odrešitve z zasluženjem praočakov se odstre Šekinah in njeni otroci Izraelitska plemena.
Prva Mojzesova Knjiga 28:14
"וְהָיָה זַרְעֲךָ כַּעֲפַר הָאָרֶץ, וּפָרַצְתָּ יָמָּה וָקֵדְמָה וְצָפֹנָה וָנֶגְבָּה; וְנִבְרְכוּ בְךָ כָּל-מִשְׁפְּחֹת הָאֲדָמָה, וּבְזַרְעֶךָ "
"Tvoje seme bo kakor prah zemlje; raziširil se boš proti zahodu in vzhodu ter severu in jugu. In v tebi in tvojem semenu bodo vse družine zemlje blagoslovljene."
Zohar citira obljubo Boga Abrahamu. Njegovo seme bo namreč brezštevilno kakor prah zemlje. Tako bo videno v Končnem Odrešenju. Bog obljubi, da bo seme Abrahama razširjeno po vsem svetu in bo usmerjalo blagoslov Svetlobe na vse narode. Duše Izraelitov so že izgrajene za ta projekt in brez njih bi svet nehal obstajati. Prihajajoč bližje času razodetja, se te duše odstirajo v svetlobi Zoharja. To je tudi razlog zakaj je DZ projekt tako pomemben in da mora ostati brezplačno dostopen.
Izaija 52:8 "קוֹל צֹפַיִךְ נָשְׂאוּ קוֹל, יַחְדָּו יְרַנֵּנוּ: כִּי עַיִן בְּעַיִן יִרְאוּ, בְּשׁוּב יְהוָה צִיּוֹן "
"Prisluhnite! Tvoji stražarji dvigujejo glas; Ubrano radostno pojejo; Kajti od oči do oči bodo ugledali vrnitev GOSPODa na Zion. "
Stražarji so ljudje, ki pričakujejo vrnitev Svetlobe v Sveti Tempelj in njihova vzradostitev ob ugledanju svetlobe.
Izaija 52:9 "פִּצְחוּ רַנְּנוּ יַחְדָּו, חָרְבוֹת יְרוּשָׁלִָם: כִּי-נִחַם יְהוָה עַמּוֹ, גָּאַל יְרוּשָׁלִָם "
"Vzklikajte v radosti, pojte skupaj, razvaline Jeruzalemskih predelov; kajti YHVH je utolažil Svoje ljudstvo; On je odrešil Jeruzalem. "
Zion je vidik Temelja (יסוד Yessod) zemeljskega Kraljestva (מלכות Malchut ). Jeruzalem predstavlja zemeljsko Kraljestvo ( מלכות Malchut ). Luč bo prisvetila nad Zion in povezala s svojo svetlobo s Kraljestvom (מלכות Malchut ) in Šekinah. Razvaline Jeruzalema bodo obnovljene ( Vstajenje/Obuditev ). YHVH bo bival med ljudmi skupaj s Šekinah.
{||}