Zoharjev dnevnik Št. 980
Pritisni tukaj za poslušanje Zoharjevega dnevnika [audio:https://dailyzohar.com/wp-content/uploads/audio/dz980.mp3|titles=Daily Zohar 980]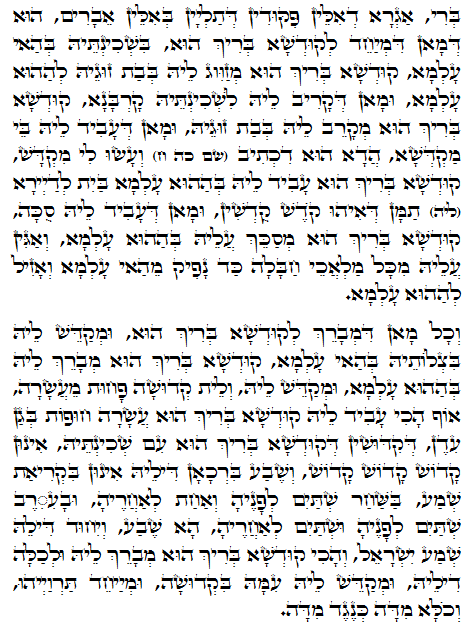 Hebrew translation:
Tikkun 70 – 85
Nagrade za našo odločenost in vztrajnost slediti zapovedim o katerih smo prej govorili pripadajo tistim, ki meditirajo na združitvi Svetega Blagoslovljeno naj bo On in Shechine med izvrševanjem zapovedi ( Mitzvah ). Združevanje zgornjega in spodnjega ( kar sicer pomeni moški in ženski vidik Svetlobe ) nas nagradi s čutenjem združitve na nižji ravni. To je lahko v navezavi s sorodno dušo in/ali s katerimkoli vidikom svetlobe na nosilca/osnovo. Drugače rečeno: rezultat je izpolnitev naših čistih želja, ki manifestirajo to luč.
Exodus Druga Mojzesova Knjiga 25:8
"וְעָשׂוּ לִי, מִקְדָּשׁ; וְשָׁכַנְתִּי, בְּתוֹכָם"
"Naj jim bo omogočeno narediti svetišče, da bom lahko bival med njimi."
Slediti duhovnim zakonom Tore z združitvijo svetlobe prinaša vidik Svetega Templja in svetlobe v naša življenja. Vsako pozitivno dejanje, ki ga udejanimo z namenom odstiranja svetlobe bi moralo biti navezano na ozavevestitev združevanja zgornjih in spodnje ravni. YH in VH. Pred vsako duhovno navezavo ali pri izvrševanju zapovedi, ki vključuje molitev ali preučevanje Zoharja, uporabljamo posebno meditacijo, ki usmerja naša dejanja. Kot orodje s katerim združujemo zgornje ravni in spodnjo raven. Prevod Hebrejskega odstavka je spodaj.
Za združevanje "Svetega , blagoslovljen naj bo On" in Shechine ( יאהדונהי ) , s Strahospoštovanjem in Ljubeznijo (יאההויהה), Ljubeznijo in Strahospoštovanjem איההיוהה( ) v celovito združitev (יהוה) v imenu vseh Izraelitov. Tako pridemo do vzpostavitve navezave z omenjenim dejanjem do njegovega prezvišenega in duhovnega korena. S tem damo zadostitev našemu Stvarniku in udejanjamo voljo Stvarnika. In darovi našega Boga naj bodo nad nami. In delo naših rok naj vzpostavi našo navezavo in naša dejanja poveže z njim (YHVH).
Hebrew text with transliteration.

Zgornji tekst je minimalizirana verzija. Kabbalisti bi naj dodali referenco na dejanje z virom v Tori da povzdignejo navezavo na višjo raven. Najpomembneje je zapomniti si naslednje kot dodatek v Pregovorih 3:6 "בְּכָל-דְּרָכֶיךָ דָעֵהוּ; וְהוּא, יְיַשֵּׁר אֹרְחֹתֶיךָ." "Na vseh svojih poteh Ga priznavaj in On bo vodil tvoje poti." Namreč moramo dodati dejansko primerno meditacijo združitve svetlobe in osnove/posode.
{||}