Click here to listen to the Daily Zohar [audio:https://dailyzohar.com/wp-content/uploads/audio/dz1007.mp3|titles=Daily Zohar 1007]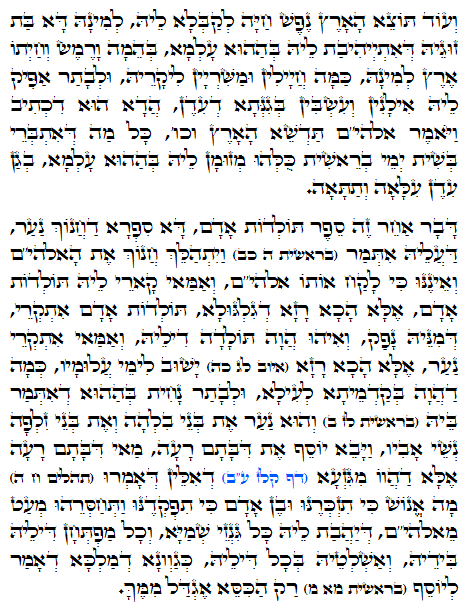 Tikkun 70-112.
Il libro delle Cronache di Adamo è legato anche a חנוך, Chanõch.
Lo Zohãr ci dice che egli era l'incarnazione di Adamo e il commentatore, Matõk Midvãsh,dice che ha ricevuto il livello anima di Neshamãh di Atzilūth di Adamo, che è il livello più alto possibile dell'anima che può essere dato ad una persona vivente.Così, anche se Chanõch è nato ed era figlio di Jared (Yered), è considerato un figlio di Adamo.
Genesi-Bereshìt וַיִּתְהַלֵּךְ חֲנוֹךְ, אֶת-הָאֱלֹהִים; וְאֵינֶנּוּ, כִּי-לָקַח אֹתוֹ אֱלֹהִים."5:24." "vayithalech Chanõch et-ha'Elohìm ve'eynenu kì-lakãch otõ Elohìm.." "E Enòch camminò con HaShèm e non fù più perchè HaShèm lo aveva preso".
(La traduzione utilizza il nome Enõch, ma la pronuncia corretta del nome è Chanõch in quanto inizia con la lettera Ebraica Chēt . ח.)Chanõch era così puro che egli non ha avuto bisogno di morire e così HaShēm lo ha preso e lo ha fatto diventare l'Arcangelo Metatrõn.
Il compito dell'Arcangelo Metatrõn è di servire come custode delle porte celesti tra le sette Sefirõt inferiori e le tre Sefirõt superiori. A causa del suo rapporto con Moshè, Metatrõn aiuterà Moshè nel il processo di "portare giū" il Mashiãh.
{||}