Daily Zohar – Tikunim – # 1017 – Reescreva a história de seus ossos.
Click here to listen to the Daily Zohar [audio:https://dailyzohar.com/wp-content/uploads/audio/dz1017.mp3|titles=Daily Zohar 1017]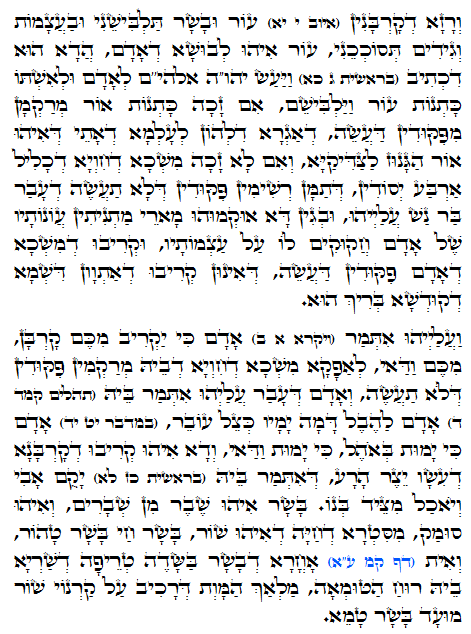 Tikkun 3 -2
Jó 10:11 " עוֹר וּבָשָׂר, תַּלְבִּישֵׁנִי; וּבַעֲצָמוֹת וְגִידִים, תְּשֹׂכְכֵנִי." "De pele e carne me vestiste, e de ossos e nervos me teceste (proteção)." Ossos – Chochmah – י . A essência e a força do homem; Tendões – Binah – ה , A energia que conecta a carne à força dos ossos; Carne – Zeir Anpin – ו, o recipiente e processo de mudança; Pele – Malchut – ה, o contato com o mundo exterior. Esses quatro aspectos também são relativos aos quatro Seres Viventes do Trono Sagrado.
Gênesis 3:21 " וַיַּעַשׂ יְהוָה אֱלֹהִים לְאָדָם וּלְאִשְׁתּוֹ, כָּתְנוֹת עוֹר–וַיַּלְבִּשֵׁם" "E fez YHVH Deus a Adão e à sua mulher túnicas de peles, e os vestiu."
Depois do pecado, Adão e Eva cairam no mundo fisico e esse versículo revela isso. O Zohar nos conta que túnicas de peles, "עור" pode ser tranformado em "אור", túnicas de 'Luz' que é a luz que estava oculta no dia da Criação. Esse prêmio é dado à pessoa que tiver esse mérito no mundo vindouro.
As ações de uma pessoa estão 'gravadas' em seus ossos. Ossos עצמות também significa 'essência' que traduz em DNA espiritual que nunca é apagado.
Quando as ações são negativas, elas atraem o aspecto de morte e essa pessoa nunca ressuscitará na Redenção Final.
{||}
traduzido por Denis Schaefer