Click here to listen to the Daily Zohar [audio:https://dailyzohar.com/wp-content/uploads/audio/dz1002.mp3|titles=Daily Zohar 1002]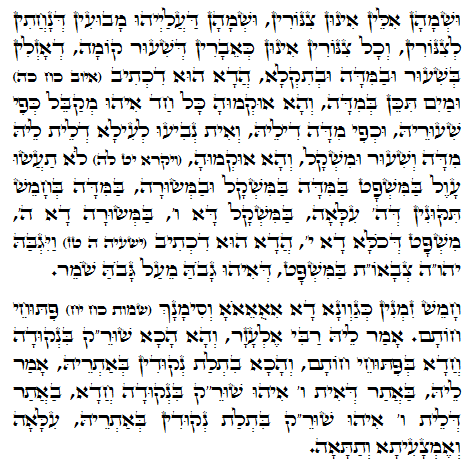 Tikkun 70 – 107.
Le Sefiròt sono canali della Luce Senza Fine (Endless). Tutto ciò che esiste ha l'aspetto delle Dieci Sefiròt presenti in esso, altrimenti non potrebbe esistere. Anche le molecole d'aria che respiriamo, hanno l'aspetto delle Dieci Sefiròt . Se è in vigore e può essere definito e misurato, allora esso ha in sè le 10 Sefiròt.
Le Sefiròt sono i veicoli e i vasi/recipienti per portare la forza della Luce che sostiene tutto ciò che esiste nel livello di Malchùt. Ogni vaso/recipiente riceve la Luce in base al suo disegno e alla sua capacità originale.
Levitico-Vaykrà 19:35.
"לֹא – תַעֲשׂוּ עָוֶל, בַּמִּשְׁפָּט, בַּמִּדָּה, בַּמִּשְׁקָל וּבַמְּשׂוּרָה" "lò-tà'asù avèl bàmìshpàt bàmiddàh bàmishkàl uvàmesuràh"."voi non commetterete ingiustizie nei giudizi, nelle lunghezze, nel peso, o nella misura".
Se noi cerchiamo di "piegare" le leggi spirituali e distribuiamo la Luce in situazioni in cui non è giusto o corretto, questa azione corrompe l'equilibrio presente in natura.
Isaia 5:16.
"וַיִּגְבַּהּ יְהוָה צְבָאוֹת, בַּמִּשְׁפָּט, וְהָאֵל, הַקָּדוֹשׁ, נִקְדָּשׁ, בִּצְדָקָה"
"Ma YHVH degli eserciti è esaltato attraverso il giudizio, e Dio il Santo è santificato con la Giustizia."
L'equilibrio spirituale è nelle mani di YHVH. Noi possiamo connetterci a Lui con giustizia attraverso l'elevazione spirituale ,usando le dieci Sefiròt.
Quando noi comprendiamo (conosciamo) che le 10 Sefiròt sono tutte intorno a noi e ogni azione determina il nostro livello di connessione a YHVH, siamo in grado di portare il vero equilibrio nella nostra vita.
{| |}