Daily Zohar – Tikunim – # 1025 – Você testa ou confia em Deus?
Click here to listen to the Daily Zohar [audio:https://dailyzohar.com/wp-content/uploads/audio/dz1025.mp3|titles=Daily Zohar 1025]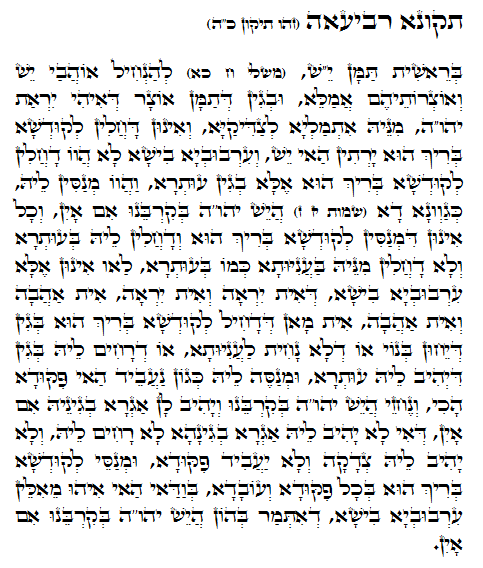 Tikkun 4 – 1
Provérbios 8:21 "לְהַנְחִיל אֹהֲבַי יֵשׁ; וְאֹצְרֹתֵיהֶם אֲמַלֵּא" "Para que faça herdar bens permanentes aos que me amam, e eu encha os seus tesouros."
Na palavra "בְּרֵאשִׁית", "no princípio", temos a palavra יראת, "Temor" e "יש", que significa "na existência (coisas que tem substância)". O Zohar explica que as letras יש com valor numérico de 310 são referentes ao número de mundos que Deus vai dar como presentes "שי" às pessoas justas que tem amor puro e temor por Ele.
Os Israelitas deixaram o Egito, que foi o mundo que era tudo sobre a existência material e física. Eles seguiram Moisés, a fim de conectarem-se ao sistema espiritual de YHVH como fizeram Abraão, Isaac e Jacó. Com os Israelitas vieram os Erev Rav, a multidão mista que eram almas de bons e maus misturados, porém na maioria maus porque, além da raiz impura de suas almas, eles tinham o desejo de receber só para si, que foi impresso neles, no Egito, por muitas gerações. Eles seguiram Moisés e o ouro que os egípcios deram aos Israelitas antes deles deixarem o Egito. Os Erev Rav queriam estar do lado 'vencedor' e apreciar o conforto físico que Deus providenciou aos Israelitas.
Os Erev Rav não tinham o 'temor' puro e o amor a Deus como os Israelitas. Eles seguiram a luz com uma agenda pessoal. Sua fé era fraca e se perdeu rapidamente quando sentiram desconforto físico.
Em Êxodo 17:3 eles reclamaram quando não tinham água. "וַיִּצְמָא שָׁם הָעָם לַמַּיִם, וַיָּלֶן הָעָם עַל-מֹשֶׁה; וַיֹּאמֶר, לָמָּה זֶּה הֶעֱלִיתָנוּ מִמִּצְרַיִם, לְהָמִית אֹתִי וְאֶת-בָּנַי וְאֶת-מִקְנַי, בַּצָּמָא." "Tendo pois ali o povo sede de água, o povo murmurou contra Moisés, e disse: Por que nos fizeste subir do Egito, para nos matares de sede, a nós e aos nossos filhos, e ao nosso gado?"
Sua dúvida em Deus era tão grande que eles levantaram a questão; 17:7 "הֲיֵשׁ יְהוָה בְּקִרְבֵּנוּ, אִם-אָיִן" "Está YHVH entre nós, ou não?"
O Zohar nos mostra que os desejos dos Erev Rav eram apenas de ficarem ricos. Também está oculto na palavra "בְּרֵאשִׁית" como יראת יש, que significa "medo de (ou falta de) substância".
O Zohar ainda conta que as pessoas que seguem os preceitos ou dão tzedaka para testar Deus para que lhes devolva benefícios materiais neste mundo são considerados provenientes dos Erev Rav.
Continua no próximo DZ "Siga o dinheiro ou siga a Luz".
{||}
traduzido por Denis Schaefer