Daily Zohar – Tikunim – # 1046 – Você é observador?
Click here to listen to the Daily Zohar [audio:https://dailyzohar.com/wp-content/uploads/audio/dz1046.mp3|titles=Daily Zohar 1046]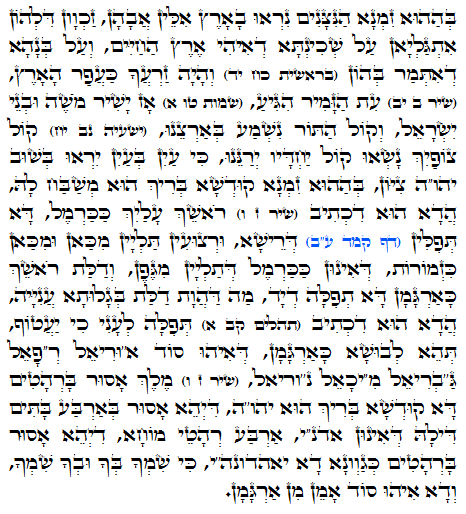 Hebrew translation:
Tikkun 6 – 5
Cântico dos Cânticos 2:12 "הַנִּצָּנִים נִרְאוּ בָאָרֶץ, עֵת הַזָּמִיר הִגִּיעַ; וְקוֹל הַתּוֹר, נִשְׁמַע בְּאַרְצֵנוּ. " "Aparecem as flores na terra, o tempo de cantar chega, e a voz da rola ouve-se em nossa terra."
O tempo de cantar implica que Moisés cante na época da Redenção Final assim como ele cantou na primeira Redenção. Êxodo 15:1 " אָז יָשִׁיר-מֹשֶׁה וּבְנֵי יִשְׂרָאֵל אֶת-הַשִּׁירָה הַזֹּאת, לַיהוָה, " "Então cantou Moisés e os filhos de Israel este cântico ao SENHOR, e falaram, dizendo:… "
Quando o tempo da Redenção Final chegar pelo mérito dos patriarcas, será revelada pela Shechina e seus filhos que são os Israelitas.
Gênesis 28:14 "וְהָיָה זַרְעֲךָ כַּעֲפַר הָאָרֶץ, וּפָרַצְתָּ יָמָּה וָקֵדְמָה וְצָפֹנָה וָנֶגְבָּה; וְנִבְרְכוּ בְךָ כָּל-מִשְׁפְּחֹת הָאֲדָמָה, וּבְזַרְעֶךָ " "E a tua descendência será como o pó da terra, e estender-se-á ao ocidente, e ao oriente, e ao norte, e ao sul, e em ti e na tua descendência serão benditas todas as famílias da terra;" O Zohar cita a promessa de Deus a Abrahão que suas sementes serão incontáveis como o pó da terra e nós veremos isso na Redenção Final. Deus disse que as sementes de Abrahão se espalharão por sobre toda a terra e canalizará as bênçãos da Luz para todas as nações. As almas dos Israelitas foram feitas para essa tarefa e sem elas o mundo deixaria de existir. Como estamos nos aproximando ao tempo da revelação, essas almas são reveladas pela luz do Zohar. (Por isso o projeto DZ é importante para o mundo e fornecido gratuitamente)
Isaías 52:8 "קוֹל צֹפַיִךְ נָשְׂאוּ קוֹל, יַחְדָּו יְרַנֵּנוּ: כִּי עַיִן בְּעַיִן יִרְאוּ, בְּשׁוּב יְהוָה צִיּוֹן " "Escutem, teu vigias! Eles levantam a voz, juntos eles cantam, porque hão de ver, olho no olho, o Senhor retornar a Sião."
Os vigias, que são as pessoas que esperam o retorno da Luz ao Templo Sagrado, regozijar-se-ão ao vê-lo.
52:9 "פִּצְחוּ רַנְּנוּ יַחְדָּו, חָרְבוֹת יְרוּשָׁלִָם: כִּי-נִחַם יְהוָה עַמּוֹ, גָּאַל יְרוּשָׁלִָם " "Clamai cantando, exultai juntamente, desertos de Jerusalém; porque o YHVH consolou o seu povo, remiu a Jerusalém."
Sião é o aspecto de Yessod de Malchut e Jerusalém é Malchut. A luz virá para Sião e conectará sua luz a Malchut e a Shechina. As ruínas de Jerusalém (Malchut) serão reconstruídas (Resurreição) e YHVH ficará com o povo juntamente com a Shechina.
{||}
traduzido por Denis Schaefer