Click here to listen to the Daily Zohar [audio:https://dailyzohar.com/wp-content/uploads/audio/dz1054.mp3|titles=Daily Zohar 1054]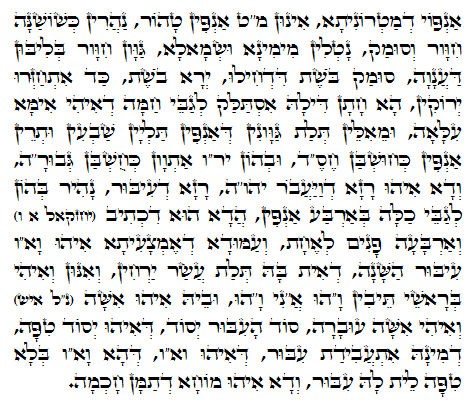 Hebrew translation:
Tikkun 6 – 13
A face da Shechina reflete 49 lados puros com a luz que sai como um lírio com as cores vermelho e branco. Isto implica Direita e Esquerda, Chessed e Gevurah.
A cor branca representa a humildade do lado de Chessed. Vermelho representa o medo e temor do lado de Gevurah.
Zeir Anpin, o noivo, traz a Shechina, a cor verde que representa a coluna central. A cor em si vem do sol, cuja raiz está em Binah.
Quando Malchut e Shechina recebe a luz das três colunas, a luz de 72 "faces" é revelada com 216 letras. חסד, Chessed, numericamente 72 e Gevurah, גבורה, que é numericamente 216. Este é o segredo do começo do versículo que revela os treze atributos de Deus.
Êxodo 34:6 "וַיַּעֲבֹר יְהוָה עַל-פָּנָיו" "E YHVH passou (וַיַּעֲבֹר) diante dele"
A palavra וַיַּעֲבֹר tem as mesmas letras de עיבור (pronunciado 'Ibbur'), que é o processo de 'impregnação'. Quando a luz de ZeirAnpin é passada para baixo para Malchut é chamada Ibbur. Uma mulher (recipiente) que conecta e aceita a semente (Light) canalizada através de um homem, torna-se impregnada.
A coluna central é representado pela letra V ואו e tem valor numérico de 13. Um ano bissexto em hebraico é chamado de ano 'impregnado', o que significa que recebeu luz adicional.
O Zohar nos revela que as três letras ואו, são as iniciais de três nomes a partir do 72. A primeira letra Vav vem do primeiro nome והו, o Alef é para o do meio ( quadro 37) אני e o terceiro Vav é para o nome והו que começa a terceira parte (3×24) (quadro 49).
Os 72 nomes são construídos em torno do aspecto de três por seu apoio das três colunas. 72 = Chessed e valor numérico do nome superior de Deus (Atzilut) יוד – הי – ויו – הי 72 x 3 = 216, o número total de letras e numericamente Gevurah גבורה
O processo de conexão e de impregnação é feito através de Yessod que precisa para atrair a Luz de Chochmah que é representada pela letra י Yod. Esta letra carrega o "pingo" de luz que é canalizado para baixo fazendo a impregnação efetiva do recipiente.
Atrair a luz para Malchut exige maior conexão com Chochmah porque senão o recipiente não pode ser impregnado e manifestar a luz superior.
{||}
traduzido por Denis Schaefer