Click here to listen to the Daily Zohar [audio:https://dailyzohar.com/wp-content/uploads/audio/dz1063.mp3|titles=Daily Zohar 1063]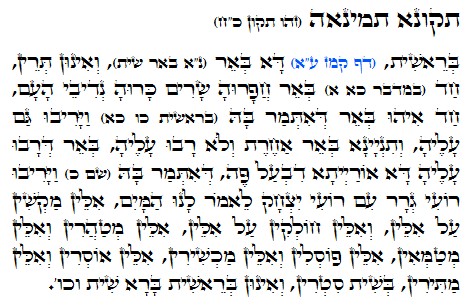 Hebrew translation:
Tikkun 8
Na palavra בְּרֵאשִׁית "No princípio", encontramos a palavra באר , que significa "um poço". Também a palavra ברא que significa "criado".
Números 21:18 "בְּאֵר חֲפָרוּהָ שָׂרִים, כָּרוּהָ נְדִיבֵי הָעָם, בִּמְחֹקֵק, בְּמִשְׁעֲנֹתָם; וּמִמִּדְבָּר, מַתָּנָה". "O poço, que os príncipes cavaram, que os nobres do povo escavaram, com o cetro, e com os seus bordões. E do deserto partiram para Mataná"
O poço é o aspecto de canais de luz que os patriarcas "cavaram" para nós. Abraão cavou poços de Chessed e os filisteus os fecharam depois de sua morte. Abraão era um grande canal que compartilhou sua energia com todos. Depois de sua morte, ninguém podia lidar com a luz e eles fecharam os poços.
Isaac recebeu bênçãos de Deus e estava pronto para reabrir os poços que seu pai abriu para o mundo. O lado negativo lutou para se apossar dos canais de luz, forçando Isaac a cavar outro poço. Depois que Deus se revelou, ele construiu um altar para se conectar a YHVH. Com esta ação, ele poderia abrir um poço que ficaria aberto até que o tempo de Mashiach. Este poço é chamado de "שִׁבְעָה", que significa "Seven". A Santa luz na Terra Santa atraiu muitas nações e impérios para tentar obter uma porção nesta terra original. É um lugar que fornece a luz para o mundo inteiro.
Os gregos, romanos, otomanos, ingleses e até mesmo os nazistas tentaram vir para a Terra de Israel, mas param nas fronteiras do Egito.
Nenhum destes grandes impérios poderia realmente conquistar e manter a Terra como sua própria, porque eles não têm o recipiente adequado para isso.
Os Israelitas estão "escondidos" em todo o mundo, assim o lado negativo não vai tentar destruí-los. Por seis milênios o lado bom luta contra o lado mau através da Luz que vem a este mundo. Só quando chegarmos ao sétimo milênio encontraremos a verdadeira água da vida e da paz. Este é o segredo do 'sétimo' poço que Isaque cavou para nós.
{||}
traduzido por Denis Schaefer