Daily Zohar – Tikunim – # 948 – Puedes ver a los ángeles en los ojos?
Click here to listen to the Daily Zohar [audio:https://dailyzohar.com/wp-content/uploads/audio/dz948.mp3|titles=Daily Zohar 948]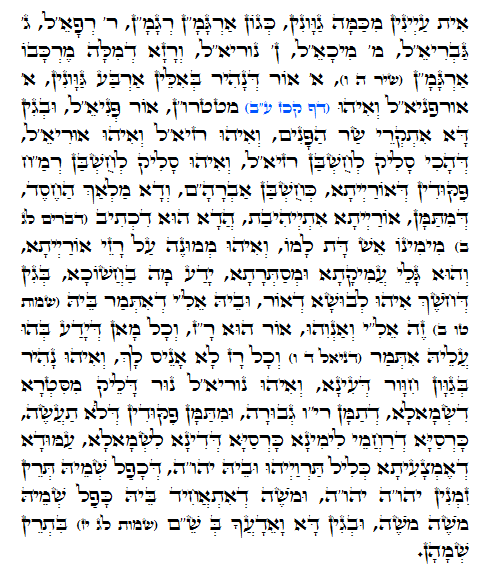 Hebrew translation:
Sorry Hebrew translation is missing from my original files.
Traducción Sebastian Palen
Tikun 70-53
Cantar de los Cantares 3:10
"עַמּוּדָיו, עָשָׂה כֶסֶף, רְפִידָתוֹ זָהָב, מֶרְכָּבוֹ אַרְגָּמָן; תּוֹכוֹ רָצוּף אַהֲבָה, מִבְּנוֹת יְרוּשָׁלִָם"
"Hizo sus columnas de plata, su parte superior de oro, el asiento de ella de púrpura (אַרְגָּמָן), el interior del mismo es con incrustaciones de amor, de las hijas de Jerusalén"
Este versículo nos muestra lo siguiente;
Hizo sus columnas de plata para la columna de Jesed, a la derecha, Gevurah, Oro, para la columna de la izquierda, púrpura para la columna central, Tiferet y las carrozas para lo que se oculta en el nombre del color, אַרְגָּמָן.
א representa la fuente superior de la luz que alimenta las luces de otros por debajo de ella. La א es el ángel Ohrpeniel אור פניאל, cuyo nombre significa "la luz interior de Dios. Es otro nombre para METAT-ron que también se llama "Ministro de la cara interna '. El se nutre de las luces interiores. También es el ángel Raziel רזיאל, que representa el secreto de los secretos de la Torá. También es, Ohriel אוריאל que canaliza la luz a cuatro sagradas criaturas del carro divino. Ambos ángeles tienen el mismo valor numérico de 248. Representa la columna derecha de la Torá con los 248 preceptos positivos. Abraham אברהם que es el carro de Jesed es también 248.
ר para el ángel Rafael רפאל
ג para el ángel Gabriel גבריאל
מ del ángel Miguel מיכאל
ן para el ángel Nuriel נוריאל
אוריאל, Ohriel es el derecho de Tiferet (Jesed de Tiferet) y Nuriel נוריאל es la izquierda (Guevurá de Tiferet). Todos estos ángeles representan los colores que salen de las luces que irradian desde los ojos.
Los ojos pueden revelar los niveles más profundos del alma de una persona. Cuando aprendemos a reconocer las luces en los ojos de una persona podemos ver a los ángeles que están con él.

{||}