Click here to listen to the Daily Zohar [audio:https://dailyzohar.com/wp-content/uploads/audio/dz948.mp3|titles=Daily Zohar 948]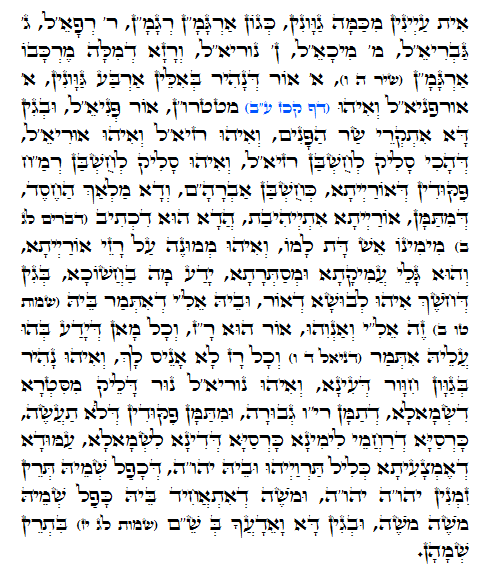 Hebrew translation:
Sorry Hebrew translation is missing from my original files.
Tikkun 70 – 53
Cânticos 3:10 " עַמּוּדָיו, עָשָׂה כֶסֶף, רְפִידָתוֹ זָהָב, מֶרְכָּבוֹ אַרְגָּמָן; תּוֹכוֹ רָצוּף אַהֲבָה, מִבְּנוֹת יְרוּשָׁלִָם" "Fez-lhe as colunas de prata, o estrado de ouro, o assento de púrpura (אַרְגָּמָן), o interior revestido com amor, pelas filhas de Jerusalém"
Este versículo nos revela o seguinte; "Ele fez suas colunas Prata para Chessed, coluna direita, Gevurah, Dourado, para a coluna esquerda, Púrpura para a coluna central, Tiferet e as carruagens para isso estão ocultas no nome da cor, אַרְגָּמָן.
א representa a fonte superior da luz que "alimenta" as outras luzes abaixo. O א está para o anjo אור פניאל. Ohrpeniel, cujo nome significa "a luz interior de D'us". É outro nome para Metat-ron que também é chamado de "Ministro da face interna". Ele extrai das luzes interiores. Também é o anjo רזיאל. Raziel, que representa o segredo dos segredos da Torah. Também é אוריאל, Ohriel que canaliza a luz para quatro Sagradas Criaturas da carruagem divina. Ambos os anjos tem o mesmo valor numérico de 248. Representa a coluna da direita da Torah com os 248 preceitos positivos. Abraão אברהם que é a carruagem de Chessed é também 248.
ר para o anho Rafael רפאל ג para o anjo Gabriel גבריאל מ para o anjo Miguel מיכאל ן para o anjo Nuriel נוריאל
אוריאל, Ohriel é a direita de Tiferet (Chessed que em Tiferet)e Nuriel נוריאל é a esquerda (Gevurah de Tiferet). Todos esses anjos representam as cores que saem das luzes que irradiam dos olhos.
Os olhos podem revelar os mais profundos níveis da alma de uma pessoa. Quando aprendemos a reconhecer as luzes nos olhos de uma pessoa, podemos ver os anjos que estão com ela.
{||}