Click here to listen to the Daily Zohar [audio:https://dailyzohar.com/wp-content/uploads/audio/dz967.mp3|titles=Daily Zohar 967]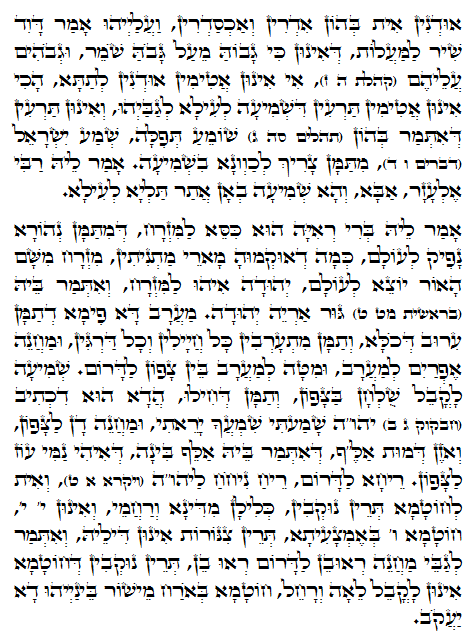 Hebrew translation:
Tikkun 70 – 72
Die Sinne und ihre spirituellen Ebenen
Y – Sehen – rechts – Augen – Chochmah – Osten – Lager von Yehuda
H – Hören – links – Ohren – Binah – Norden – Lager von Dan
V – Geruch – Mitte – Nase – Zeir Anpin – Süden – Lager von Reuben
H – Sprechen – Gefäß – Mund – Malchut –Westen – Lager von Ephraim
Genesis 49:9 " גּוּר אַרְיֵה יְהוּדָה," "Judah ist das Junge eines Löwen" Löwe אַרְיֵה, hat die gleichen Buchstaben wie Sehen ראיה. Judah repräsentiert Führung. Der Osten ist da, wo die Sonne aufgeht und Licht zu dem Tag bringt. Die Augen sind im Gesicht höher plaziert und sind der höchste Sinn. Er ist näher am Gehirn, um seine Wichtigkeit anzuzeigen.
Habakkuk 3:2 "יְהוָה, שָׁמַעְתִּי שִׁמְעֲךָ יָרֵאתִי" "O YHVH, ich habe den Bericht von dir gehört und ich habe Angst;´´
Binah ist die linke Säule von den drei oberen drei Sefirot. Hören ist der Aspekt von Empfangen und der Stamm von Dan war im Norden gelegen war, repräsentiert die linke Säule. Ohren sind ein bißchen weiter unten als die Augen und weiter auseinander. Sie beziehen sich auf geistige Fähigkeiten und Verbindungen.
Leviticus 1:9 "רֵיחַ-נִיחוֹחַ לַיהוָה" " ein süßer Duft YHVH" Die Nase ist in der Mitte des Gesichts und hat zwei Seiten, wie die Augen und Ohren, doch Beide sind mit einer inneren Wand verbunden. Das rechte Nasenloch ist der Aspekt von Chesed und das linke Nasenloch der von Gevurah. Jedes Loch hat den Aspekt des Buchstaben Yud und die innere Wand ist wie der Buchstabe Vav. Zusammen bilden sie den Buchstaben Alef.
Wie der Aspekt der sechs (Vav) Sefirot von Zeir Anpin, die Nase stellt den Tikunprozess einer Person in dieser Welt dar.
Das Lager von Reuben war im Süden gelegen. Sein Name ist ראו-בן und bedeutet 'Sehen' 'Sohn'. Zeir Anpin ist der Aspekt von Sohn zu Chochmah (Vater) und Binah (Mutter).
Der Mund befindet sich in der unteren Mitte des Gesichts. Er hat eine Öffnung, die alles herausbringt was darüber ist. Es ist der Aspekt von Malchut. Der Mund hat keine Begrenzungen, um sich in der unteren Welt zu äußern und repräsentiert die Macht zu manifestieren.
Proverb 21:13 "אֹטֵם אָזְנוֹ, מִזַּעֲקַת-דָּל– גַּם-הוּא יִקְרָא, וְלֹא יֵעָנֶה" "Wenn ein Mann seine Ohren zu den Schreien der Armen verschließt, wird auch er schreien und unbeantwortet bleiben"
Diesen Vers, den der Zohar hier bringt ist, um uns zu lehren, dass alle unsere Sinne wichtige Teile des Tikunprozesses sind. Wir können keine passiven Wesen sein, die sich auf egoistische Wünsche fokussieren, sondern wir müssen uns jede Situation erschließen, die uns zum Handeln ´aufruft´.
{||}