Click here to listen to the Daily Zohar [audio:https://dailyzohar.com/wp-content/uploads/audio/dz972.mp3|titles=Daily Zohar 972]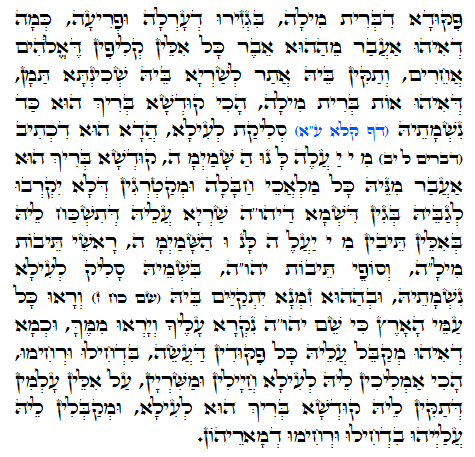 Hebrew translation:
Tikkun 70 – 77
O processo de circuncisão remove a Klipot que ficou presa ao corpo físico quando Adão cometeu o primeiro pecado. O prepúcio cobre a "coroa" de Yessod e bloqueia a luz de ser facilmente revelada. A sua remoção abre o canal de Yessod e uma pessoa tem o maior potencial de se tornar um justo.
Quando uma pessoa morre, sua alma ascende aos níveis superiores. As forças do lado negativo tentam "atacar" a alma, procurando por buracos em suas vestes para "sugar" tanta energia que possam antes da alma ir acima e além de seu alcance.
Uma "alma" pesada, significando uma com grandes desejos para si e forte conexão ao mundo material, é muito lenta em subir e fornece uma boa "refeição" para o outro lado enquanto experimenta um processo doloroso. Esta é a passagem pelos portões do inferno antes da alma ser julgada e ir para o apropriado processo de limpeza.
As leis da Torah nos ensinam a enterrar o corpo o mais rápido possível e antes do por do sol. Isto ajuda a diminuir ou pular a dor da alma em seu caminho para cima. Enquanto o corpo não está de volta ao solo, a alma não se move ao próximo passo.
O Zohar nos revela que por causa da circuncisão, D'us nos dá um "passe fácil" aos mundos superiores e protege a alma daqueles que querem prejudicá-la.
Deuteronômio 30:12 "מִי יַעֲלֶה-לָּנוּ הַשָּׁמַיְמָה " "'Quem subirá por nós aos céus"
As iniciais dessa citação são a palavra 'מילה', 'circuncisão' e as letras finais grafam o nome יהוה YHVH. Nossa conexão a YHVH com o processo de correção de nosso corpo com ações positivas nos pavimentam um "caminho elevado" e suave ao mundo superior.
Nós temos a Torah e o Zohar como nossa ferramenta de "pavimentação". Com essa luz, enriquecemos nossa alma e completamos nossa correção. Quando chega o momento, nós entramos na estrada atingindo nosso destino com acompanhamento de primeira classe.
Nós todos queremos experimentar o Mashiach e a Redenção Final em nossas vidas e nós devemos acreditar que isto acontecerá hoje, mas se não acontecer, então ficamos felizes em ter outro dia de trabalho, recebendo mais para o futuro.
E a propósito, para ter sucesso em seu trabalho, você deve apreciar cada momento dele, independentemente de quão fácil ou difícil seja.
{||}