Click here to listen to the Daily Zohar [audio:https://dailyzohar.com/wp-content/uploads/audio/dz974.mp3|titles=Daily Zohar 974]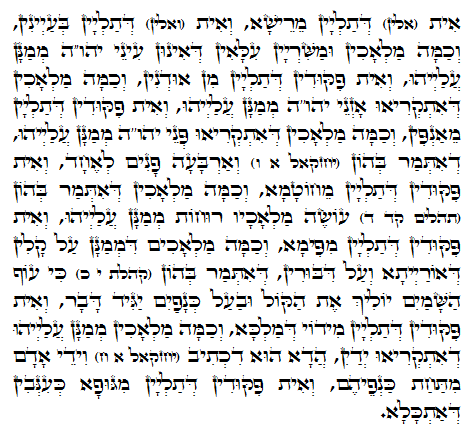 Hebrew translation:
Traduccion Sebastian Palen
Tikun 70-79
Los preceptos de la Torá, se refieren a todas las partes del cuerpo. Los hay para la cabeza, como el uso de Tefilin, algunos se conectan a los ojos como " Constituiran tzitzit para vosotros, para que lo veais y recordeis todos los rpeceptos de El Eterno y los realiceis; y no exploreis tras vuestros corazones y vuestros ojos, tras los cuales os descarriais" Numeros 15:39 Algunos preceptos conectan a los oídos como escuchar el Shofar, la Torá y oraciones. Hay preceptos relativos a la cara como "no dañar los bordes de su barba" Hay relacionados con la nariz, como el olor de incienso después de Shabat. La boca se conecta a los preceptos de estudio y las bendiciones diferentes. Las manos también tienen conexión con los preceptos como el lulav y el Tefilín de la mano.
El Zohar nos enseña que cada parte del cuerpo tiene ángeles que apoyan la acción de los preceptos relacionados y eleva la luz específica para purificar el alma de esa persona.
El Zohar dice que como un racimo de uva, los preceptos conectan a la Torá y su luz.