Click here to listen to the Daily Zohar [audio:https://dailyzohar.com/wp-content/uploads/audio/dz975.mp3|titles=Daily Zohar 975]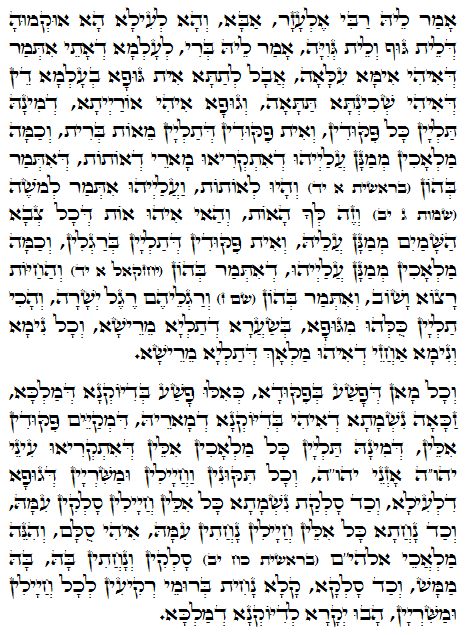 Hebrew translation:
Tikkun 70 – 80
Rabbi Shimon erklärt Rabbi Elazar, dass die Torah der Aspekt des Körpers der Shechina ist, von ihr kommen alle Mitzvot, Gebote ,von denen die Welt von Malchut abhängt.
Das Wort für Buchstabe ist "אות", das bedeutet auch ein , ein Zeichen ´Erkennungszeichen´. Sie stellen unterschiedliches Licht dar, das in Malchut enthüllt wird.
Genesis 1:14 " וַיֹּאמֶר אֱלֹהִים, יְהִי מְאֹרֹת בִּרְקִיעַ הַשָּׁמַיִם, לְהַבְדִּיל, בֵּין הַיּוֹם וּבֵין הַלָּיְלָה; וְהָיוּ לְאֹתֹת וּלְמוֹעֲדִים, וּלְיָמִים וְשָׁנִים" "Und Gott sagte: ' Es werde Licht am Himmelsgewölbe, um den Tag von der Nacht zu trennen; und lasst sie (die himmlischen Kräfte, die Engel die früher geschaffen waren) als Zeichen (Buchstaben) da sein, und für Zeiten (Ereignisse), und für Tage (untere Sefirot) und Jahre (obere Sefirot);"
Exodus 1:12 "וַיֹּאמֶר, כִּי-אֶהְיֶה עִמָּךְ, וְזֶה-לְּךָ הָאוֹת, כִּי אָנֹכִי שְׁלַחְתִּיךָ: בְּהוֹצִיאֲךָ אֶת-הָעָם, מִמִּצְרַיִם, תַּעַבְדוּן אֶת-הָאֱלֹהִים, עַל הָהָר הַזֶּה." "Und Er sagte'; gewiss, Ich will mit dir sein, und dieses soll ein Merkmal (Zeichen, Engel) für dich sein, das Ich dir geschickt habe: Wenn du das Volk aus Ägypten hervorgebracht hast, sollt ihr Gott auf diesem Berg dienen."
Gott schickte Engel mit Moses, um ihn überall wo er ging zu beschützen. Selbst Pharaoh und alle seine Kräfte konnten ihm nicht zu nahe kommen, um ihm zu schaden.
Die positiven Handlungen, die wir gemäß den spirituellen Gesetzen der Thora tun, schaffen Engel, die überall am Ursprung der Handlung festhalten, wie die Haare am Körper. Basierend auf der Handlung und derem Bewusstsein kommen die Engel von unterschiedlichen Ebenen. Sie können die Person ganz von der unteren Ebene bis zu Atzilut verbinden.
Eine Person, die gegen das System geht, verdirbt seine spirituelle Verbindung mit der Torah und dem Licht, das der Ursprung der Gebote ist.
Eine gerechte Person verdient es eine ´Leiter´ und seine Engel zu haben, die ihm helfen sich mit den höheren Ebenen zu verbinden.
{||}