Click here to listen to the Daily Zohar [audio:https://dailyzohar.com/wp-content/uploads/audio/dz987.mp3|titles=Daily Zohar 987]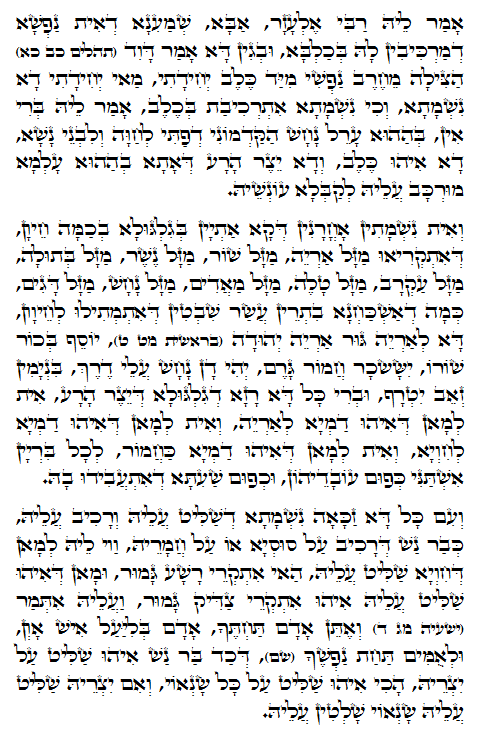 Hebrew translation:
Tikkun 70 – 93
Salmos 22:20 "הַצִּילָה מֵחֶרֶב נַפְשִׁי; מִיַּד-כֶּלֶב, יְחִידָתִי. " "Livra a minha alma da espada, e a minha predileta da força do cão."
O rei David pediu a D'us que o salvasse dos pecados e de cair, em reencarnar em um corpo do outro lado. O cão é a serpente que nos puxa com mentiras e enganos para pecar. Depois da morte, nossas ações determinam o formato de nosso corpo. As almas podem vir das 12 boas e puras raízes do Zodíaco, que são os 12 filhos de Jacó, que é Israel, ou do lado negativo do Zodíaco. Toda encarnação é planejada para desafiar a alma a superar suas "falhas" anteriores.
Quando os desafios na vida são grandes e difíceis, são grandes os prêmios que esperam pela superação desses desafios. A data de nascimento de uma pessoa determina a energia e desafios que a pessoa terá em sua vida. Sua alma será expressa em sua face, em combinação com o processo de tikun a ela planejado. Muitas faces humanas lembram formatos de animais ou refletem uma energia de animais que estão no Zodíaco ou das bênçãos que Jacó deu a seus filhos. Veja Gênesis 49.
traduzido por Denis Schaefer
{||}