Daily Zohar – Tikunim – # 1010 – Moshè Ti Può Vedere.
Click here to listen to the Daily Zohar [audio:https://dailyzohar.com/wp-content/uploads/audio/dz1010.mp3|titles=Daily Zohar 1010]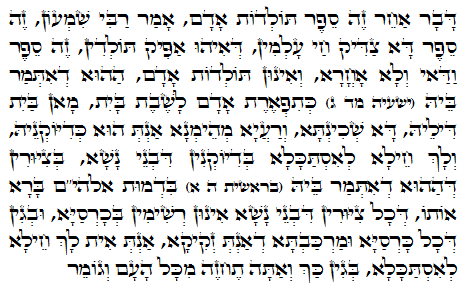 Tikkun 70 – 115.
Genesi-Bereshìt 5:1. " זֶה סֵפֶר, תּוֹלְדֹת אָדָם: בְּיוֹם, בְּרֹא אֱלֹהִים אָדָם, בִּדְמוּת אֱלֹהִים, עָשָׂה אֹתוֹ.""zèh sefer toledòt Adàm bèyòm berò Elohìm Adàm bidemùt Elohìm asàh otò"."Questo è il libro delle generazioni di Adamo. Nel giorno che HaShèm creò l'uomo, a somiglianza di HaShèm lo fece "
Lo Zohar porta un'altra spiegazione al 'Libro delle generazioni di Adamo' e si collega alla Sefiràh di Yessòd che è l'unica Sefirah che può portare vita e proseguimento per il mondo.
Zeir Anpìn è rappresentato con il nome יוד – הא – ואו – הא che è numericamente 45 pari a אדם Adamo. Le anime vengono fuori da questa Sefiràh, che è anche chiamata ספר,(Sefer) parola Ebraica che significa 'Libro'.
Libro è l'aspetto del tempo, del processo e della limitazione. Come una grande storia che viene messa a parole non può mai sostituire la sorgente spirituale (la Luce,l'Immaginazione, ecc.)
Moshè, che è Ra'aya Meheimnàh (Il Pastore Fedele), è presente in questa sezione e Rabbi Shimòn gli dice che è l'immagine di Adamo (Zeir Anpìn), come si legge in Isaia 44:3. "וַיַּעֲשֵׂהוּ כְּתַבְנִית אִישׁ, כְּתִפְאֶרֶת אָדָם לָשֶׁבֶת בָּיִת ""e lo ha fatto dopo la figura di un uomo (Adamo), in base alla bellezza (Tiferet) di un uomo, per abitare nella casa."
La casa è l'aspetto di Malchùt e la Shechinàh. Moshè come Adamo, come dice il versetto sopra, è stato fatto "a somiglianza di HaSHèm Egli lo fece". Egli è il 'Marito' della Shechinàh e le anime di tutte le persone vengono attraverso di Lui. È per questo motivo è detto su di Lui in Esodo-Shemòt 18:21. "וְאַתָּה תֶחֱזֶה מִכָּל – הָעָם אַנְשֵׁי – חַיִל יִרְאֵי אֱלֹהִים, אַנְשֵׁי אֱמֶת – שֹׂנְאֵי בָצַע" "vè'atàh techezèh mikòl-ha'àm anshey-chayìl yir'ey Elohìm anshey emèt son'èy vatzà" "inoltre tu prenderai tutto il popolo uomini capaci, con il timore di HaShèm , uomini di Verità, che odiano il guadagno ingiusto"
{| |}