Click here to listen to the Daily Zohar [audio:https://dailyzohar.com/wp-content/uploads/audio/dz949.mp3|titles=Daily Zohar 949]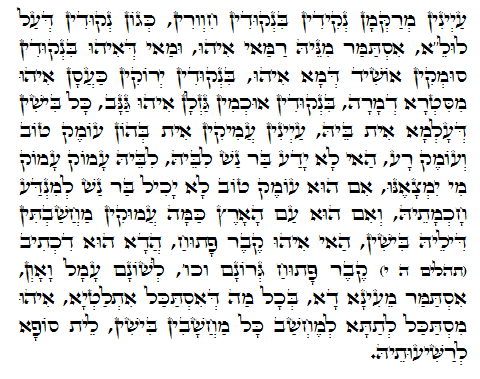 Hebrew translation:
Sorry Hebrew translation is missing from my original files.
Tikkun 70 – 54
Ko potujemo nehote s pogledom po obrazu okoli oči lahko zaznamo poteze in kožna znamenja. Kožno znamenje predstavlja vidik negativne lastnosti. Bela znamenja predstavljajo prevarantsko in ne zaupljivo osebo kot Laban Aramejski. Zelena znamenja so kot Žolč, ki zbirajo negativne elemente iz fizičnega telesa. Takšna oseba hitro reagira in hitro postane jezna. Rdeča znamenja so povezana s stanji, ko zlahka na drugega izločimo vročo kri. Črna znamenja predstavljajo intenzivno in negativno željo zase in sicer tatu, ki bo ukradel kar bo zmogel od drugih. Črna vsebuje vse ostale barve. Tako je ta oseba sposobna vseh vrst negativosti. Osebe z globoko postavljenimi očmi imajo misli, ki jih ne moremo prebrati ali predvidevati. Če je oseba pozitivna, potem lahko, da ima globoko modrost, ki pa je ne moremo razumeti. Če je oseba negativna potem oči te osebe povedo, da ima veliko zlobnih misli. Oseba je kot temna luknja. Zohar označuje tako osebo kot Odprt Grob. Oseba ima zlobno oko in prinaša smrt s svojim pogledom. Morali bi biti previdni in ostati po strani od takšnih ljudi.
Dodatna zabeležka in še enkrat opomnik: Prosim ne prehitro soditi o osebah z globokimi očmi. Nekatere teh oseb lahko dajejo vtis slabega človeka, vendar te osebe lahko skrivajo veliko, modro osebo. Sicer je redko, vendar če ustvarimo napačno sodbo, nas to lahko prizadene.
{||}