Click here to listen to the Daily Zohar [audio:https://dailyzohar.com/wp-content/uploads/audio/dz977.mp3|titles=Daily Zohar 977]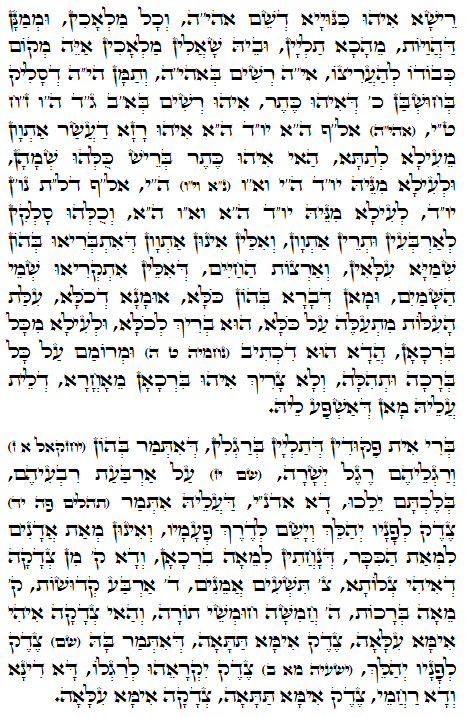 Hebrew translation:
Tikkun 70 – 82
A cabeça, que é Keter, tem o nome אהיה AHYH e é a raiz de todos anjos que vem de outros nomes sagrados.
Na última prece do Shabbat, nos elevamos a Keter e recitamos as palavras dos anjos "איה מקום כבודו", é lida e soa como uma pergunta "Onde está seu lugar de honra?" , mas também é um pronunciamento que איה (do nome אהיה), que representa Chochmah, Binah e Daat, é o lugar de sua honra. O lugar é o trono de Keter.
Aqui o Zohar nos revela que a letra Kaf כ de כתר Keter vem depois das primeiras 10 letras do Alef-Bet hebraico, אבגדהוזחטי, para nos dizer que as Dez Sefirot são criadas antes de Keter que é a cabeça dos mundos do Tikkun abaixo.
Os nomes soletrados de Keter e os abaixo dele tem 42 letras אלף הא יוד הא יוד הי ויו הי יוד הא ואו הא אלף דלת נון יוד Com essas 42 letras D'us criou os céus, que é o mundo superior de Beriah (Criação) e o mundo dos vivos que é Malchut de Beriah.
Neemias 9:5 "וִיבָרְכוּ שֵׁם כְּבֹדֶךָ, וּמְרוֹמַם עַל-כָּל-בְּרָכָה וּתְהִלָּה" "e bendigam o Teu glorioso Nome, que está exaltado sobre toda a bênção e louvor."
O estado de "exaltado acima de tudo' é para o Criador de tudo que é o Infinito Abençoado seja. Ele é o que traz bênçãos e sustento a todas Sefirot e mundos abaixo.
Depois do primeiro Tzimtzum, o Infinito formou as 10 Sefirot no espaço vazio como a fórmula de tudo que virá em seguida. Somente então, os mundos de Atzilut, Beriah, Yetzirah e Asiah puderam ser fundados.
Tudo que tem um nome foi criado pela Luz Infinita dos mundos abaixo. Keter é o primeiro e a cabeça das dez Sefirot, mas a luz sempre vem do Infinito.
{||}