Click here to listen to the Daily Zohar [audio:https://dailyzohar.com/wp-content/uploads/audio/dz1021.mp3|titles=Daily Zohar 1021]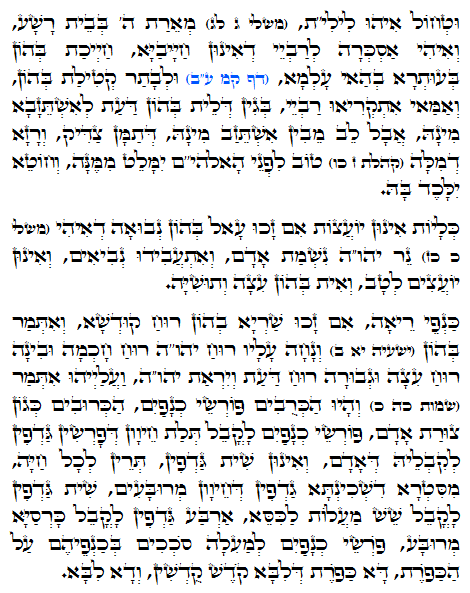 Tikkun 3 – 6
O baço 'hospeda' a negatividade do outro lado no corpo e o Zohar nos remete ao Provérbios 3:33 " מְאֵרַת יְהוָה, בְּבֵית רָשָׁע;" "A maldição do YHVH habita na casa do ímpio". O baço junta a negatividade de uma pessoa a um ponto que pode matá-la.
Os rins são 'assessores' do corpo e apoiam a alma como os profetas nos trouxeram as palavras de Deus. Eles são o aspecto de Netzach e Hod e estão localizados na parte inferior do 'recipiente'. Se temos um fluxo de luz em nosso corpo, então eles apoiam nossa alma e mantém a luz dentro.
Provérbios 20:27 "נֵר יְהוָה, נִשְׁמַת אָדָם; חֹפֵשׂ, כָּל-חַדְרֵי-בָטֶן" "O espírito do homem é a lâmpada do YHVH, que esquadrinha todo o interior até o mais íntimo do ventre."
Os lados do pulmão podem trazer o Espírito Santo e elevar a alma de uma pessoa a um nível superior.
Isaías 11:2 "וְנָחָה עָלָיו, רוּחַ יְהוָה–רוּחַ חָכְמָה וּבִינָה, רוּחַ עֵצָה וּגְבוּרָה, רוּחַ דַּעַת, וְיִרְאַת יְהוָה" "E repousará sobre ele o Espírito do YHVH, o espírito de sabedoria (Chochmah) e de entendimento (Binah), o espírito de conselho (Chessed) e de fortaleza (Guevurah), o espírito de conhecimento (Coluna Central) e de temor (Malchut) do YHVH."
Seis níveis como os anjos do Trono Sagrado que têm seis asas. O Zohar também ensina que os lados do pulmão são como as asas do Querubim no topo da Arca Sagrada.
O coração é o aspecto da Arca Sagrada no corpo.
Purificando o corpo com nossas ações positivas e estudando o Zohar que nos conecta aos níveis espirituais superiores trazem santidade a nossos corpos e abrem canais de sabedoria e profecia.
Nosso objetivo é conectar ao Espírito Santo e sermos capazes de ver e entender a causa e o efeito que está acontecendo em nossas vidas e em nosso ambiente.
Amanhã é Yom Kippur e temos a oportunidade de remover todos desejos para si mesmo e termos uma oportunidade de receber o Espírito Santo. Não fique ocupado com sua fome contando os momentos quando você poderá correr para pegar uma garrafa de água. Aprecie o estado elevado de Binah e siga o serviço onde quer que esteja. Se você não puder participar de um serviço, então apenas fique em casa e faça um estudo 100% espiritual do Zohar.
{||}
traduzido por Denis Schaefer