Click here to listen to the Daily Zohar [audio:https://dailyzohar.com/wp-content/uploads/audio/dz935.mp3|titles=Daily Zohar 935]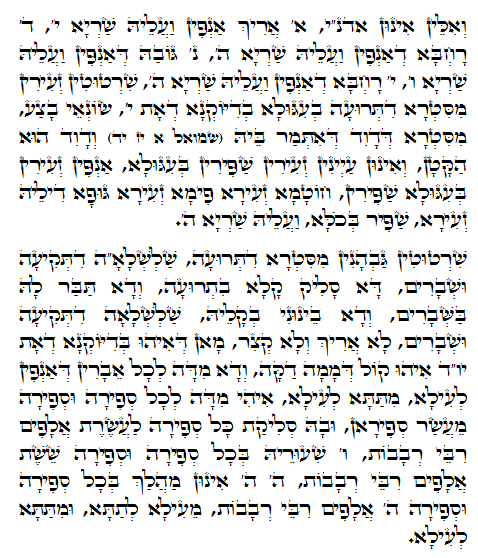 Hebrew translation:
Sorry Hebrew translation is missing from my original files.
Tikkun 70 – 40
Testa com linhas longas e largas representam o aspecto de Tiferet. Uma pessoa com tais linhas é da semente da verdade que é atributo da coluna central. Miquéias 7:20 "תִּתֵּן אֱמֶת לְיַעֲקֹב, חֶסֶד לְאַבְרָהָם, אֲשֶׁר נִשְׁבַּעְתָּ לַאֲבֹתֵינוּ, מִימֵי קֶדֶם" "Darás a Jacó a fidelidade, e a Abraão a benignidade, que juraste a nossos pais desde os dias antigos."
Existem quatro aspectos na face que são o aspecto de ADNY אדני, Malchut e YHVH יהוה da Coluna Central.
Rosto comprido está para a letra Aא , Arich Anpin com a luz de Chessed de Y י
Rosto largo está para a letra ד D, coluna da esquerda , Gevurah e a ה H do nome.
Letra N נ para rosto grande e alto e a letra V ו para o nome YHVH. Pessoas com esses rostos também tem linhas pequenas em suas testas que representam o aspecto de Gevurah
Y י de ADNY está para face larga e redonda e a letra menor H ה do nome.
Genesis 4:15 "וַיָּשֶׂם יְהוָה לְקַיִן אוֹת" "E pôs YHVH um sinal em Caim" Rashi, o grande comentarista da Torah, explica que D'us colocou uma letra de Seu nome na testa de Caim paara protegê-lo de outras pessoas que queriam matá-lo.
Quando nós "lemos" as letras da face podemos contar a "história" dessa pessoa. Agora também entendemos a origem do ditado "eu posso te ler como um livro aberto".
Pelo motivo das letras hebraicas representarem diferentes níveis de Energia, veremos mais referências às letras à medida que continuamos com o estudo da PFR.
{||}