Daily Zohar – Tikunim – # 1001 – Perchè hai Fame?
Click here to listen to the Daily Zohar [audio:https://dailyzohar.com/wp-content/uploads/audio/dz1001.mp3|titles=Daily Zohar 1001]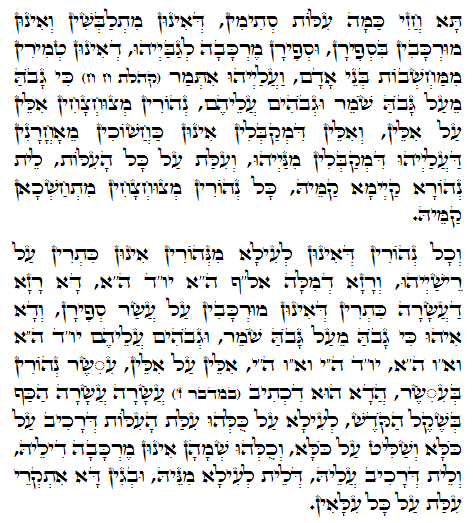 Tikkun 70 – 106.
La "testa" di Arich Anpìn ha tre livelli di Luce che si collegano alla Luce Senza Fine (Endless ).
Gulgalta – גולגלתא – Cranio
Kruma d'Avira – אוירא קרומא ד – Membrana d'Aria
Mocha Stima'àh – מוחא סתימאה – Cervello Nascosto
Il disegno qui sotto è molto generale soltanto per mostrarvi il rapporto tra le due teste di Keter, ATIK e ARICH. ATIK è stata 'copiata' da Adam Kadmòn e la Luce Infinita.E' uno e tutta misericordia. La sua fase successiva è ARICH dove possiamo cominciare a vedere la formazione degli aspetti di maschio e femmina (non mostrato di seguito).
Clicca per ingrandire
[frame type="lifted"]https://dailyzohar.com/wp-content/uploads/2012/08/atik-arich-215×300.jpg[/frame]
Il processo in Keter ha creato la capacità di continuare la costruzione dei mondi e convogliare la Luce Senza Fine (Endless) ai livelli inferiori.
Lo Zohàr ci insegna che anche se Keter è la Sefirà più alta con le luci più belle, è ancora considerata "buia" in relazione ai livelli di sopra di essa e il Senza Fine (Endless).
Le 10 Sefiròt rappresentano il processo di evoluzione dalla luce Senza Fine (Endless ) alla materia nel mondo fisico. Ogni livello produce il livello sottostante creando un vaso/recipiente per esso.
Le Sefiròt Superiori "spingono" la loro Luce verso il basso in modo da formare un vaso/recipiente poi tornano su,lasciando Luce per tutti i livelli sottostanti.
Keter ha la Luce di tutte le dieci Sefirot sotto e non ha mancanze.
Chockmàh ha la luce di nove Sefiròt,sè stessa e le otto Sefiròt sottostanti. Chockmàh non ha una mancanza reale perché riceve tutta la luce di Keter, che è la radice di tutte le 10 Sefiròt .Binàh ha la luce delle otto Sefiròt sotto. Binàh inizia a sperimentare il desiderio di diffondere la Luce che è stata ereditata da lei a partire da Chokmah. Il processo continua nei livelli più bassi fino ad arrivare a Malchùt che è rimasta senza Luce , ma con il più grande desiderio di tutte. Malchùt ha il 'sapore' di tutte le Sefirot di luce sopra di essa ed ha una "fame" costante.
Avere desideri di cose materiali è come consumare i nostri stessi vasi/recipienti e questo li rende fragili. Quando usiamo l'esistenza materiale per espandere i nostri vasi/recipienti e il desiderio della Luce, noi cresciamo spiritualmente e la nostra Anima può raggiungere livelli più elevati.
{| |}