Click here to listen to the Daily Zohar [audio:https://dailyzohar.com/wp-content/uploads/audio/dz1040.mp3|titles=Daily Zohar 1040]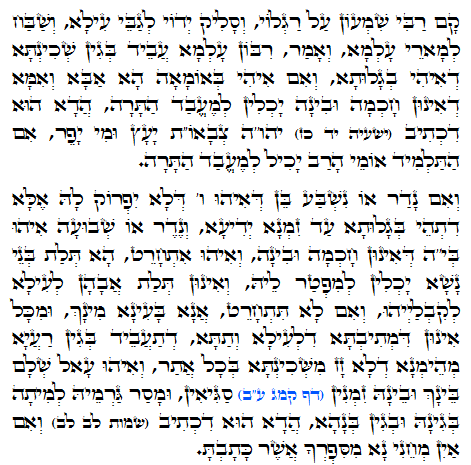 Tikkun 5 – 14
Šehinah* ( Shechinah שכינה ) je Svetloba, ki ohranja/zadržuje Bit/Osnovo v Kraljustvu ( Malchut ). To je kar vzdržuje obstoj na svojem mestu v vsej dinamiki časa, prostora in gibanja. Ko bo vsa negativnost odstranjena iz sveta, bo Bit/Osnova še vedno obstajala v stanju umirjenosti. Drugače povedano v stanju v zvezneha/neprekinjenega toka svetlobe. Samo takšno stanje zagotavlja celovito zadovoljitev Biti/Osnove.
Kaj pa je trenutno stanje? To je stanje v katerem je Šehinah* zaklenjena v "izgnanstvu-Malchut" dokler Bog (YHVH) ne sprosti sile Končnega Odrešenja. Šehinah* ( ONA-ženski vidik Boga ) je z nami, da nam pomaga pri stanju bolečine zaradi ločitve od svetlobe. Brez nje ( Šehinah ) ne moremo govoriti o možnosti življenja v tem svetu.
Visoka pesem 3:5 "הִשְׁבַּעְתִּי אֶתְכֶם בְּנוֹת יְרוּשָׁלִַם, בִּצְבָאוֹת, אוֹ, בְּאַיְלוֹת הַשָּׂדֶה: אִם-תָּעִירוּ וְאִם-תְּעוֹרְרוּ אֶת-הָאַהֲבָה, עַד שֶׁתֶּחְפָּץ"
"Rotim vas O hčere Jeruzalemske, pri gazelah in košutah v poljih: ne budite in ne netite ljubezni, dokler ji ugaja'"
Bog v vidiku Zeir Anpin-a** je postavil Jeruzalemske hčere ( KRALJESTVO/Malchut ) pod kletev dokler ni Bit/Osnova izpolnjena z željo/strastjo do njega.
V omenjenem razdelku Zoharja, se Rabin Šimon postavi in moli k Neskončnemu, ( blagoslovljeno naj bo njegovo ime ), da bi razbil kletev nad sinom ( Zeir Anpin ) privedel odrešenje Šehinah. Bogu ponuja različna opravičila in predloge, da bi se spremenila odločitev sina. Prvo opravičilo: da Bog, Neskončno je nad Očetom kar predstavlja Modrost (Chokmah ) in Materjo kar predstavlja Binah-Razumevanje. Oni so nad sinom in lahko spremenijo katerokoli njegovih odločitev. Celo tri navadne običajne osebe se lahko uvrstijo v letno zaobljubo. Rabin Šimon nato nadaljuje rekoč, če Neskončno ne sprejema razloga, potem ga prosi in vse ostale pravične duše v šolah poučevanja ( Yeshivah-Ješivah ) v nebesih, da podprejo njegovo prošnjo. Prosi za sprejem zasluženja. On prosi sprejetje zasluženja Mojzesa. Namreč Mojzes je vedno bil ob Schechinah in navezan na osrednje deblo. Mojzes je vedno bil pripravljen dajati in vračati za odpuščanje njihovih grehov. Iz omenjenih razlogov je za Mojzesa, Rabina Šimona rečeno, da bi Neskoncno moralo prekinit kletev in končati izgnanstvo.
{||}