Click here to listen to the Daily Zohar [audio:https://dailyzohar.com/wp-content/uploads/audio/dz971.mp3|titles=Daily Zohar 971]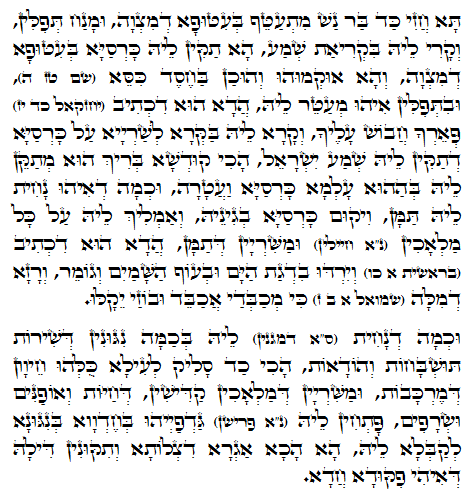 Hebrew translation:
Tikkun 70 – 76
In diesem Abschnit erklärt der Zohar die Auswirkungen unserer spirituellen Verbindung auf unseren Körper.
Wenn wir (Männer) uns selbst mit einem Talit טלית, bedecken, der ein Gebetsschal ist, stellen wir eine Verbindung von Zeir Anpin zu Malchut her. Die Buchstaben טל, bedeuten 'Tau' und beziehen sich auf die Buchstaben YHV des Namen in der buchstabierten Form von Zeir Anpin, יוד-הא-ואו. Der Buchstabe י stellt das Licht dar und der Buchstabe ת , welcher der letzte Buchstabe von dem Alef-Bet für Malchut ist.
Isaiah 16:5 "וְהוּכַן בַּחֶסֶד כִּסֵּא, וְיָשַׁב עָלָיו בֶּאֱמֶת בְּאֹהֶל דָּוִד" "Und ein Thron ist durch Gnade (Chessed) eingerichtet, und es sitzet die Wahrheit darauf, in dem Zelt von David "
Ein weißer Talit ist der Aspekt von Chessed und ein Thron ist ein 'Anschluss' zu dem Licht das oberhalb der Ebene darunter ist.
Ezekiel 24:17 "פְּאֵרְךָ חֲבוֹשׁ עָלֶיךָ " "binde dir den Gürtel um deinem Kopf". Den Tefilin auf Kopf und Hand anlegen, ist eine vollständige Verbindung zu dem Namen von der oberen Ebene von Chokmah (Welt von Atzilut , Kopf) and Malchut (Welt der Handlung, Hand).
Genesis 1:26 " וַיֹּאמֶר אֱלֹהִים, נַעֲשֶׂה אָדָם בְּצַלְמֵנוּ כִּדְמוּתֵנוּ; וְיִרְדּוּ בִדְגַת הַיָּם וּבְעוֹף הַשָּׁמַיִם, וּבַבְּהֵמָה וּבְכָל-הָאָרֶץ, וּבְכָל-הָרֶמֶשׂ, הָרֹמֵשׂ עַל-הָאָרֶץ" "Und Gott sagte: 'Lasst uns den Menschen nach unserem Bildnis machen; und lasst sie die Herrschaft über die Fische des Meeres haben und über das Federvieh in der Luft, und über das Vieh, und über die ganze Erde, und über jedes Kriechende, das auf der Erde kriecht "
Das Bildnis von Gott, das ist der Baum des Lebens, existiert in unserem Körper. Wir wurden aus Energiefeldern gemacht. Wir gelten als eine 'kleine Welt' und die unterschiedlichen Körperteile sind Teil des Systems. Alles was wir mit unserem Körper machen, wirkt sich auf das spirituelle Systemaus das wir haben. Gott gab uns die Macht alles das was für uns geschaffen wurde, zu beherrschen.
Job 19:26
"וּמִבְּשָׂרִי, אֶחֱזֶה אֱלוֹהַּ" " aus meinem Fleisch (Dasein) konnte ich Gott sehen"
Job lernte, dass seine Seele ein vollständiges spirituelles System ist und teilte dieses Wissen mit uns. Er sagte nicht "mit meinen Augen sehe ich Gott" oder "Aus meinem Herzen kann ich Gott fühlen". Er bezieht sich auf den Körper, als den Gesichtspunkt Gott zu sehen und zu verstehen . Job hat verstanden, dass seine Leiden nur unterschiedliche Ebenen des Reinigungsprozesses waren. Seine Seele hielt den Körper ( die Energiefelder) zusammen und seine Erfahrungen reinigten sie. Nachdem er den Prozess beendet hatte, kletterte er auf höhere Ebenen.
Durch welche Erfahrungen wir auch im Leben gehen, besonders durch die von Schmerz, reinigt unsere Seele. Es ist keine Bestrafung von Gott, es ist ein Segen, weil unser Aufenthalt auf dieser Ebene des Daseins nur vorübergehend ist, und für uns geschaffen wurde, um die Gelegenheit zu haben, eine bessere und reinere Seele wachsen zu lassen. Alles was um uns herum ist sind nur Werkzeuge, zu gebrauchen für unseren Erhöhungsprozess.
Rabbi Shimon erfüllte seine Mission im Leben, indem er in einer Höhle lebte, Johannisbrot Früchte aß und Wasser trank, um seinen Körper zu erhalten, um das Studium und die Offenbarung des Zohars aufrecht zu erhalten. Der Heilige Ari starb im Alter von 38 Jahren. Er hatte körperliche Leiden und erfuhr den Verlust eines Sohnes. Rabbi Ashlag hatte ein schwaches Herz und Parkinson oder etwas ähnliches, das ihn in seiner Fertigkeit begrenzte zu schreiben .
Unser Körper ist unsere Arbeitskleidung. Wenn ihr sie auszieht oder wenn der 'Big Boss' sagt, die Arbeit ist vorbei, dann könnt ihr euch an den Früchten von eurer Arbeit erfreuen. Bis zu dieser Zeit, arbeitet weiter.
{||}